Mum in stitches over son's hilarious attempt at using rotary phone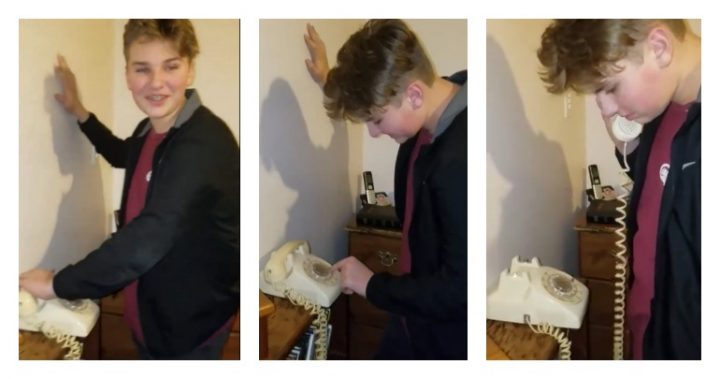 If you've ever felt a little dimwitted after asking your grandkids for tech advice, only to have them roll their eyes at you and fix the issue within seconds, this video will put a smile on your face.
An American mum has shared a video of her son attempting to use a rotary phone and the results are hilarious. Kimberly Phillips wrote on Facebook that her son Braylon was the "knowledgeable tech guy" in their house, but was stumped when it came to making a call on the old-school phone.
The hilarious video shows Braylon repeatedly messing up the numbers as he tries to dial his mum's mobile number — all the while with the receiver still in the cradle! After his first attempt at dialling, Braylon picks up the receiver with a puzzled look on his face and says, "hello?" before hanging up in frustration much to his mother's amusement.
His ongoing attempts prove just as fruitless and it's not long before Kimberly is in doubled over with laughter. After about a minute Braylon pulls out his mobile phone to google how to use the 'ancient' device.
The hilarious video has racked up thousands of views with plenty of commenters saying it gave them a good ol' laugh.
Ad. Article continues below.
"This is priceless! Thanks for making my day!" one woman wrote. "I haven't seen one in years, woohoo old school!! The good days!!" said another.
"We must have been very smart back in those days," laughed one man. "Geniuses, I must say! Lol," added another.
While one woman summed it up perfectly: "Just confirms that older people are smarter than these young whipper-snappers!!!"
It's definitely good to see that even though those of the older generation might be a bit miffed by new technology sometimes, they still know how to work a classic!
Take a look at the video and tell us what you think. Did you have a laugh?