Moving on after a tough year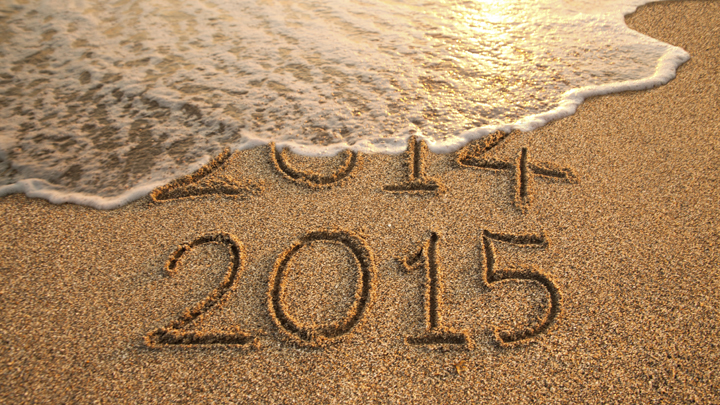 Let's just come right out and say it: 2014 was not the best year for our country and the world. There were unspeakable events and much sadness and despair. It was a year of loss, but we must not forget the love and happiness that occurred as well – there were births, times of jubilation and much to be proud of.
But if you shared a tough year with the rest of us, then it may be hard to stay positive for the new year. So we have compiled a list of the best news stories of 2014 to make you remember that we can all see better days.
January
Recognising Aborigines as the first Australians in The Constitution… Abbott's Australia Day Letter
Ad. Article continues below.
In his Australia Day letter, released via Facebook, Tony Abbott, with great dignity has raised the possibility that after 226 years, our country might finally recognise our Aboriginal peoples as "the first Australians" in our Constitution.
The Senior Australian of the Year for 2014 is Fred Chaney
Fred Chaney AO who was named Senior Australian of the Year for 2014. He was been awarded the honour in recognition of his commitment to reconciliation and human rights, an area he has worked diligently for many decades.
Ad. Article continues below.
February
Flashmob of seniors breaks into disco moves in Melbourne's Federation Square
Crowds gathered to enjoy a performance from music legends Joe Camilleri, Richard Clapton, Russell Morris and Leo Sayer, to launch the Apia Good Times Tour which will see the four unite to play around the country in May. Leo stepped out to sing his classic You Make Me Feel Like Dancing when the over 50's dancers launched into their surprise dance routine to stunned on-lookers.
Sexy at sixty? 65 is the magical age for body confidence!
Ad. Article continues below.
A new study has found that women feel most confident in their appearance at age 65! Not at 20 before the wrinkles, breast-feeding and post-baby body syndrome kicks in, but at 65.
March
A new planet has been discovered…
A new planet has been discovered beyond the edge of pluto,  a distant dwarf planet, called 2012 VP113 and there may be another planet 10 times the size of Earth.
Ad. Article continues below.
This is likely one of thousands of distant objects that are thought to form the so-called inner Oort cloud. What's more, their work indicates the potential presence of an enormous planet, perhaps up to 10 times the size of Earth.
Finally… beauty brands taking notice of over 60s women
Louis Vuitton's spring/summer '14 campaign stars a range of women, including 70-year-old Catherine Deneuve. Karen Walker's 2013 eyewear campaign featured women aged between 65 and 92. Here in Australia, 50-year-old actress Rebecca Gibney has been a spokesmodel for Olay since 2011.
Ad. Article continues below.
April
Australian drinking on the decline since 1973 peak
Have you found that you have been drinking less in the past couple of years? Well you might not be wrong because for the first time in over a decade drinking is actually on the decline.
Beer is down, wine and cider are up but overall Australians are drinking less.
Ad. Article continues below.
May
No objections to this piece of the Budget
The Government pledged a $10,000 per person plan called Restart that will support employers to hire a person over 50 who has been on benefits for more than 6 months.
June
Ad. Article continues below.
Doctors vote on no cigarettes for those born after 2000
Doctors voted last night on whether children born after the year 2000 should be banned from the purchase of cigarettes.  It was a momentous move, that could change the world's view of smoking.
A win for Australia and environmental conservation all over the world
This year, Australia became the third country in the last 40 years to attempt to de-list a World Heritage Area. But, thankfully, the World Heritage Committee has this week rejected the Liberal government application in just under 10 minutes.
Ad. Article continues below.
The Tasmanian Forest World Heritage Area will remain untouched for now and we have our United Nations friends to thank.
July
The Queen photobombs the Hockeyroos with a huge smile!
Perhaps the funniest photobomb to ever have happened occurred at the Commonwealth Games with the Queen stepping in behind two Hockeyroos in a spectacular background peek-a-boo. Her personal joy is evident at being able to step in behind the photo with hockey players, Jayde Taylor and Brooke Peris just before their opening match against Malaysia.
Ad. Article continues below.
August
103 year old challenges Usain Bolt for a race!
He isn't far from his 104th Birthday, but Mr Miyazaki has put an unusual challenge out to the world. He wants to take on Usain Bolt in a race and to the current world champion his words are, "Let's rumble!"
Ad. Article continues below.
September
History made at 2014 Dally M awards
For the first time in NRL history, two players were awarded the coveted award at the Star Casino in Sydney – Johnathan Thurston and Jarryd Hayne.
October
Ad. Article continues below.
Big news for A Place to Call Home!
We know that many people here are passionate about the drama series and now we've some exciting news! A Place to Call Home is coming back to TV screens.
Channel Seven has made a deal with Foxtel channel SoHo that will see two more seasons of the show produced by Seven, and televised on cable TV in a static weekly slot with filming to commence in March 2015.
The Queen sends her first tweet
We're well aware that Queen Elizabeth isn't much of a talker but in early October she wrote her very first Twitter message! The much awaited tweet said this:
Ad. Article continues below.
"It is a pleasure to open the Information Age exhibition today at the @ScienceMuseum and I hope people will enjoy visiting. Elizabeth R".
November
New research has been presented at the Alzheimers Europe Congress that showed that coffee and polyphenols reduce the risk of deterioration of brain cells, most particularly in the areas controlling memory. Researchers have gone as far as saying in their presentation that "regular lifelong moderate coffee consumption can reduce the risk of developing the disease by up to 20 per cent".
Ad. Article continues below.
Obama gives speech at University of Queensland
Barack Obama landed in Brisbane for the G20 summit in mid November to much fanfare and media coverage, but what the world was waiting for was his keynote speech at the University of Queensland's St Lucia campus.
Obama spoke for 30 minutes on a number of topics (including controversial climate change) and started by thanking Australia for their friendship and urged the importance of our closeness in the future, going as far to say we are cut from the same cloth as America.
Ad. Article continues below.
December
New Zealand Person of the Year goes to 59 year old, Mary Quin!
It isn't every day you hear a story like this. Overnight, a panel of senior journalists from the New Zealand Herald have chosen and announced the New Zealanders of the Year for 2014. The winners are Mary Quin and Brendon McCullum.
And, remember:
Ad. Article continues below.
1.  Pain is part of growing.
2.  Everything in life is temporary.
3.  Worrying and complaining changes nothing.
4.  Your scars are symbols of your strength.
5.  Every little struggle is a step forward.
Ad. Article continues below.
6.  Other people's negativity is not your problem.
7.  What's meant to be will eventually, BE.
8.  The best thing you can do is to keep going.
What helps you stay motivated when you're struggling? Was 2014 a good or bad year for you? What happened and how will you move forward? Tell us below.