Move over, Trump! This ball of white fluff is officially America's top dog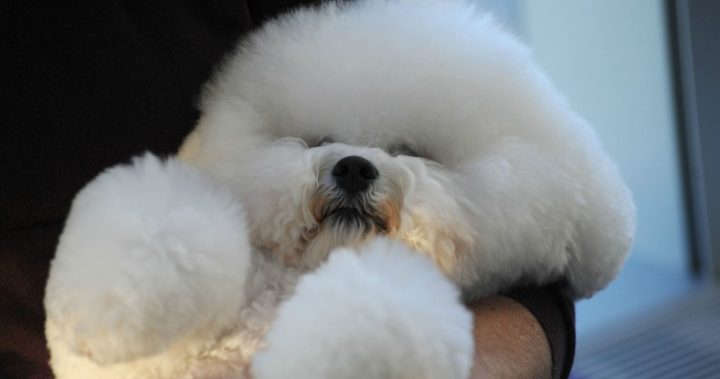 Donald Trump may think he's America's top dog, but the official title's gone to a cloud of white fur otherwise known as Flynn.
The male bichon frise took out the country's highest dog show honour this week, winning Best in Show at the prestigious Westminster Kennel Club Dog Show in New York – the first time the breed has won in 17 years.
Flynn, who's full show name is Belle Creeks's All I Care About Is Love – yes, really – beat out almost 3,000 canine competitors to take the title after two days of gruelling ring-trotting and plenty of preening. The preening bit is no exaggeration either! Flynn's trainer Bill McFadden told TV reporters that the dog was bathed and had two hours of "scissoring" before the finale.
Flynn, pictured below with McFadden, took a media tour of the city after his win, posing expertly (the dog, not the handler) for snaps at every location. After this career-topping moment, McFadden says, Flynn will probably retire, no doubt to an even more fun life as a stud.
Ad. Article continues below.
Judge Betty-Anne Stenmark told the Washington Post that five-year-old Flynn's head, expression, eyes and his constantly wagging tail were his winning attributes. "When I put my hands on that little dog, he sold himself to me," she said.
Ad. Article continues below.
A soulful-looking pug called Biggie won the toy group.
Ty the giant schnauzer took out both the working group and Reserve Best in Show.
Ad. Article continues below.
Bean the Sussex spaniel won the sporting group.
Ad. Article continues below.
Slick the border collie triumphed in the herding group.
And a statuesque borzoi called Lucy won the hounds.
Ad. Article continues below.
Flynn got into the finals by winning the non-sporting group of dogs.
Ad. Article continues below.
Winston the tiny Norfolk terrier rounded out the team of winners by topping the terrier group.
Which one would you've picked? Do you have your own adorable dog at home? Could they give these canines a run for their money when it comes to good doggy looks?