Morning show hosts can't keep their hands off greased up flag bearer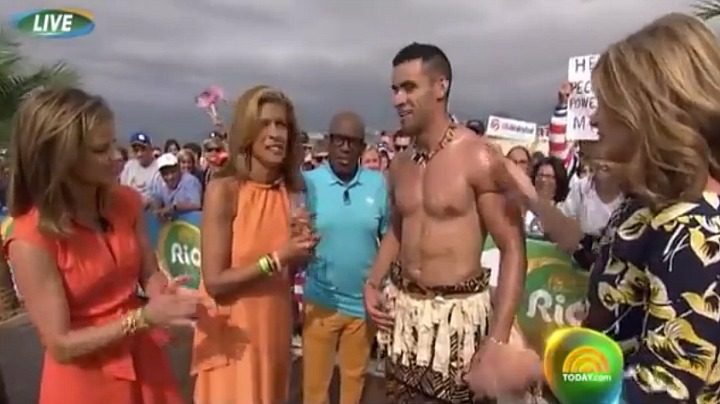 The female hosts of America's Today show have sparked debate after being filmed having a great time rubbing their hands all over Tonga's Pita Taufatofua who is competing in the Taekwando at the Olympics.
Pita caught the world's attention when he carried out the flag for Tonga at the Opening Ceremony on Saturday. His oiled, glistening body practically broke the internet as people flocked to social media to give their tick of approval.
Yesterday, he appeared in the Today show with hosts Jenna Bush Hager, Hoda Kotb and Natalie Morales who couldn't stop giggling and touching him.
It wasn't long before Hoda pulled out a bottle of coconut oil and began 'rubbing him down' with it, with Jenna and Natalie quickly joining in.
Ad. Article continues below.
Good morning from RIO with my girl @NMoralesNBC. @SavannahGuthrie we got you a little something…. pic.twitter.com/mT5Btq8pBu

— Jenna Bush Hager (@JennaBushHager) August 8, 2016
While the ladies all had fun, a rather bemused Pita watched on seemingly unable to stop it from happening.
The segment has caused some people call out the show for double standards, saying if the roles had been reversed – and a group of men had been rubbing oil on a woman – it would be branded as sexism or even sexual harassment.
Ad. Article continues below.
"This is ridiculous," wrote one commenter. "If we had male news commentators oiling up some female gymnasts asses, all hell would break loose. That would not be Olympic family oriented tv programming at all."
"How are these women get to keep there job by objectifying this person," said another. "If men did this to a women there be an uproar. Don't even talk about female harassment again."
Others though say it was all in good fun and that people need to lighten up.
What are your thoughts?
Is this a double standard? Was it inappropriate for the ladies to do this to Pita?