Morgan Fairchild pushes her shoulder pads into a political post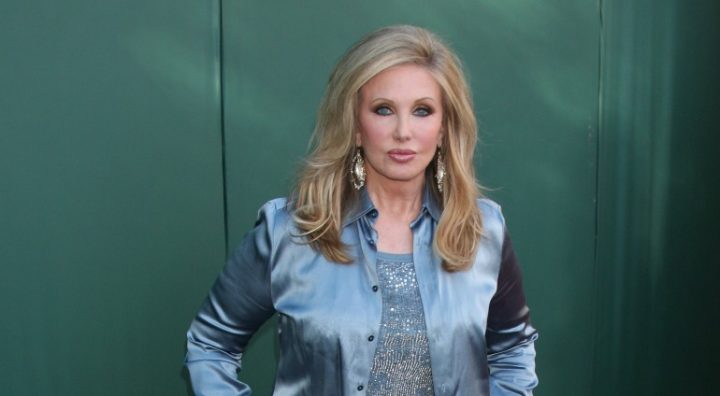 She was first well known for power dressing while starring in prime time soap opera Falcon Crest.
How could you ever forget the power dressing and feuding wealthy families in the show that ran for nine seasons. 
Now Morgan Fairchild is becoming notable for her political updates on Twitter.
Posting on the social media site since 2010, Morgan's tweets have been increasing since the start of the Trump campaign, and they certainly haven't stopped since he became elected.
She was a Hilary supporter and donated to her campaign.
Ad. Article continues below.
Her tweets today turned to an Australian focus after Trump's reported hang up phone call with our Prime Minister.
No 'G'day, mate': On call with Australian prime minister, Trump badgers and brags https://t.co/5slTX03HDy This is SO embarrassing!

— Morgan Fairchild (@morgfair) February 2, 2017
Before Falcon Crest Morgan appeared in an episode of Dallas, as a character that would later be played by Priscilla Presley.
Her career lead her to the stage, starring in the role of Mrs Robinson in The Graduate and even to a reality television show called But Can They Sing.
Ad. Article continues below.
Morgan made a brief return to soap-operas with a guest role in Bold and the Beautiful in 2009.
Beautiful throughout the years, it is those electric eyes that are still very much a focal point in Morgan's appearance… not to mention a few of those memorable shoulder pads. 
Her notoriety as an over the top power vixen has lead to her appearing in a number of movies as herself, including the 2011 Beverly Hills Chihuahua 2, as well as an advertising campaign for a clothing retailer Old Navy.
She has also featured in other television commercials, including for teeth whitening and pre-planning your funeral.
Ad. Article continues below.
Her most recent television credits include episodes of Bones in 2011 and Revenge and Hot in Cleveland in 2014.
Morgan, who was born Patsy Ann McClenny, turns 67 tomorrow.