More trouble in Rio as Aussie athletes say pool is giving them 'itchy eyes'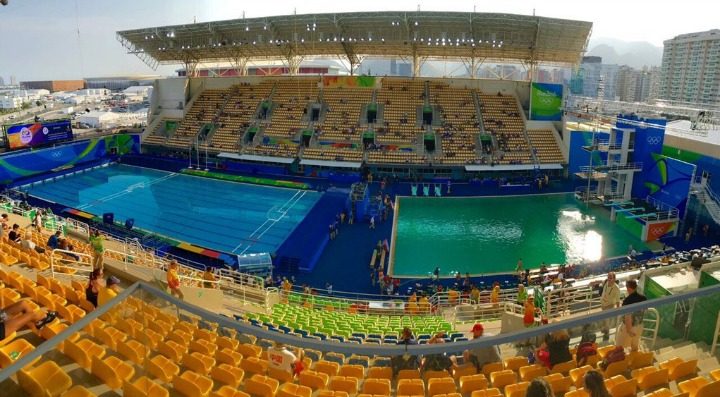 Rio officials are facing more problems today after a second pool turned a lurid green overnight.
To make matters worse, athletes have begun to complain about stinging eyes and bad smells coming from the pools as they try to compete in their events.
Yesterday, bemused divers were forced to keep their mouths and eyes closed from the moment they hit the water until they climbed out of the pool thanks to a green algae that grown throughout.
Now, the pool next door where the water polo players compete has also turned green, with the Australian team saying it caused their eyes to sting and weep throughout the match.
"I don't know what's happened. I think they bumped up the chlorine or something because my eyes are stinging," Australian centre back Richie Campbell told Fairfax Media.
Ad. Article continues below.
"It hurts at the end of the game and we'll probably get teary eyes for the next couple of hours but that's alright. I felt it more towards the end. It wasn't too bad in the water but now it's really starting to sting.
It wasn't just the Aussies saying something either, with competitors from all over the world saying it was affecting their performance.
"It's very difficult to play in this water because the chlorine is really, really strong for the eyes," said Mladan Janovic of Montenegro. "You cannot even see."
Ad. Article continues below.
"When they finished their matches, I saw Hungarians, Australians and also Greek players … it was like everybody was crying."
Over at the indoor pool, many swimmers are finding their hair is turning green due to the high amount of chlorine in the water.
US swimmer Ryan Lochte has seen the biggest change with his blonde hair turning a bright green after being in the pool for a few days.
The colour is expected to get even brighter over the next few days meaning Ryan will be sporting one wild hair-do by the end of the Games!
Ad. Article continues below.
The algae is reportedly causing a whole lot of stress for Rio officials who are scrambling to fix the issue.
Ad. Article continues below.
It seems like it's been one problem after another since the Games started with many saying all of the bad is overshadowing the good.
Usually the Olympics is a huge drawcard for tourists and a great way for a country to showcase the best it has to offer, but with so many dramas many are saying these Olympics are acting like more of a warning against travelling to Brazil.
Do you think the Rio Olympics could have been better organised? Should our athletes be forced to compete in a pool filled with algae?