'Molly' star Samuel Johnson is sick of the "Gold Logie nonsense"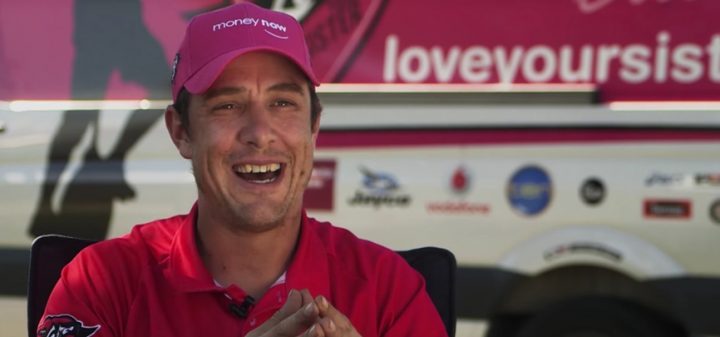 Samuel Johnson has made a great career as an actor but it's his new role as ambassador for his family's charity Love Your Sister that is his true passion. The charity was started after his sister Connie was diagnosed with cancer.
Johnson was made headlines this year in his jaw-dropping role as Molly Meldrum in the miniseries Molly and it was the role that made many think he had the Gold Logie in his future. Johnson has chosen to not campaign for the award but instead focus on Love Your Sister. This weekend, however, his sisters "tricked" him into having time away from the internet so that they could use the charity Facebook to plug Johnson's Logie chances. Needless to say, Johnson was not too pleased about this.
Taking to Facebook, Johnson kept things frank by writing, "I had very solid reasons for not mentioning the Logie thing to you guys and I'm wishing I had have explained it to my sisters better before I went on a 'fishing trip' with my best mate who I thought would never dog me".
Johnson continued, "We share our family in the hope that it will encourage other mums to be proactive about their health … But most importantly, we try to encourage action by taking action ourselves.
"A whopping 12,498 villagers have reached for their wallets in the last two weeks (volume that we've never come close to before) to help Connie's Big Heart Project — her world record attempt to assemble the longest line of coins in the shape of a big love heart, this coming Valentine's Day.
Ad. Article continues below.
"So, right in the middle of the hectickest, most successful period Love Your Sister has EVER experienced my two bonehead sisters decided to shift ALL of that momentum towards TV Week. So that we can win a shiny trophy. Are you starting to see it from my perspective yet?"
"I can hear you now. 'But a Logie will inspire more actions!' Well yes, if you win. If we don't win, it's a hell of a lot of wasted actions. That's my point. That's why I didn't yell and scream about getting your vote in the first place. Of course I want a Logie. Desperately, if I'm honest. It would open so many more doors for us. But the numbers don't add up. We're up against PR machines, ya know?
"So what's my solution? All I feel I can really do is encourage anyone who hasn't already to purchase a metre ($2.90) for Connie's Big Heart Project? We're on our way to busting the mint, breaking a world record, raising a mint for cancer research and fulfilling the dreams of a sick mum. That seems most important to me.
"But if you're going to insist on helping me out too, let's at least leave this Gold Logie nonsense alone, shall we? We just don't have the numbers and we want Carrie to win that one anyway. If Carrie took out the Gold and I got up for the Silver, then that'd be pretty spesh. So if you must, I'll take your vote, but only after you've seriously considered the merits of the two 'actions'. One helps cures cancer, the other one inflates my already oversized ego. The choice is clear." Johnson concluded.
Do you agree that it's more important to focus on more important things? Do you think that his sisters had their heart in the right place?