Millions spilled on Hong Kong road test spirit of Christmas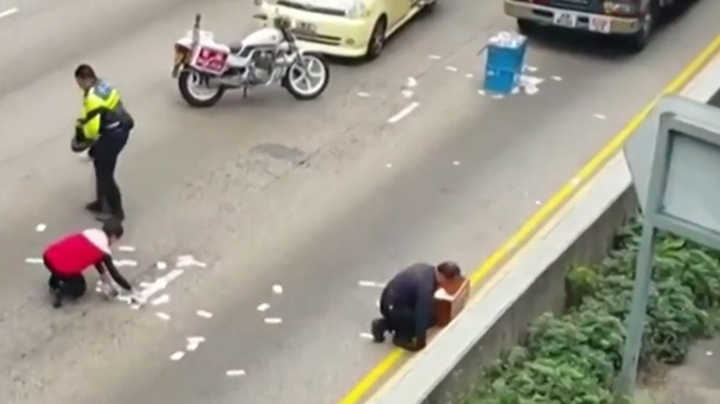 Hong Kongers' wills were put to the test on Christmas eve when millions of dollars spilled from the back doors of a security van onto a busy street in Wan Chai.  Tourists and locals jumped from cars and coaches scrambling to grab at up to HK$15 million dollars worth of HK$500 and HK$1000 notes (HK$500 is about $65 USD).
And it got us thinking… what would you do?  Would you grab a stash and run for it?  Or would you drive past and leave the money to others?  Or would you pick it up and hand it in?
A total of $5.7 million was immediately recovered when more than 30 people surrendered it to police, and forces had to hunt down the remaining monies using CCTV footage of car license plates.
Two people though elected not to surrender it, and have been arrested for holding onto it.
Ad. Article continues below.
"We found the money stored under the bed at their homes and they admitted they took the money on Gloucester [Road] after getting off the taxi they were in," said police chief inspector Addy Li Chi-kin at a media briefing.
"During the mission police have found HK$165,000 in cash at the male suspect's home in Kowloon Bay. In-depth investigation is still under way in the female suspect's home."
"We will arrest as soon as possible all the people who have been identified," Li said.
According to the South China Morning Post, witnesses told reporters that they saw mainland tourists leaving their coaches and taking stashes of the spilled cash with them.
Asked what the police could do if those who had snatched the spilled banknotes had already left the city, Li said: "It depends whether police have already known and verified the identities of the suspects.
Ad. Article continues below.
"We hope those who had picked up cash on the day can return the cash to the closest police station as soon as possible so that police can handle [the matter] promptly."
At the time of writing, more than 27 people had returned money that went missing in the frantic scramble, including two individuals who returned HK$1 million and one person who handed in HK$2 million.
And so we have to ask… Do you think it would be worth the risk stopping and picking up the money?  What would you have done?