Michelle Payne says she's "buggered" after busy Derby Day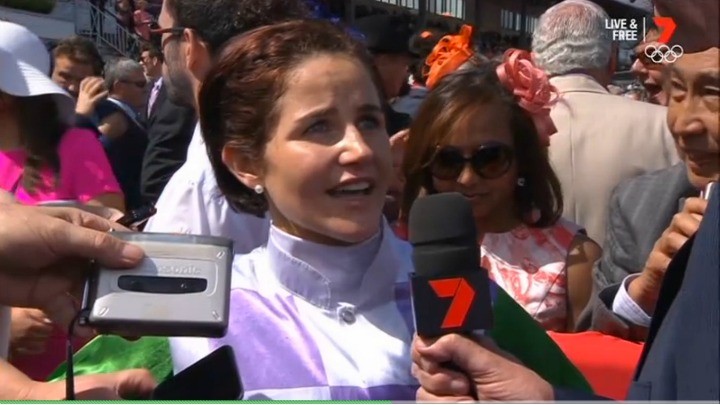 It's been almost 12 months since she became a favourite amongst many of you.
While it's been a tough few months for Michelle Payne, she's certainly not afraid of a challenge.
And Derby Day has been just that for the Melbourne Cup winner.
Payne was busy juggling her racing and media commitments throughout the day, drawing a crowd of supporters wherever she went.
The ABC is reporting that at one point she was rushed from the stables to appear in the Tabcorp marquee in formal dress and then raced back to get ready to ride.
Ad. Article continues below.
Read more: Michelle Payne is ready to race
Payne rode Queen of New Zealand, a filly she trained herself, in the second race of the day.
But unfortunately she finished second-last.
She told the ABC she couldn't believe how much her life had changed in the past 12 months.
"You actually couldn't believe how much a race could change your life – it's basically changed it in every way," she said.
Ad. Article continues below.
"You can't really go anywhere without people wanting to grab a photo or being recognised."
Read more: Michelle Payne has a reason to celebrate
Speaking about her new dual role as trainer and jockey, she admitted it had its downs and the buck stopped with her if the horse didn't race well.
"I'm buggered," she said.
So, will she race on Melbourne Cup day?
Well, Payne is booked to ride in some of the races on the day but unfortunately won't be running in the main race itself.
Are you glad Michelle is back in the saddle?