Michelle Payne makes a call no one can make for her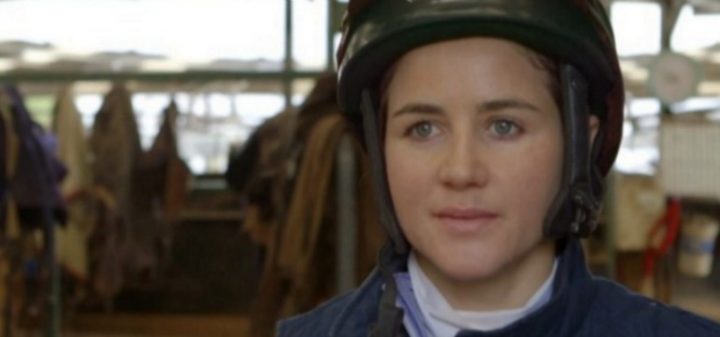 Last month, Michelle Payne's dreams of riding in the Melbourne Cup was almost crushed when owners of Prince of Penzance, the horse she rode to victory last year, told her to consider retiring.
But everything changed last week as Ms Payne was suddenly given a chance to ride again but on a different horse – Lucky Liberty.
Michelle Payne will ride Lucky Liberty in a race at Sale in Victoria on Sunday but after this ride, Ms Payne says she will decide whether racing will be the focus of her future, certainly a different tone to what fans have been hearing over the past few months.
Yesterday she completed her final training session at Ballarat's Dowling Forest racecourse near her father's home where she grew up.
Today, she makes her highly anticipated comeback since she fell in Mildura in May, tearing her pancreas.
Ad. Article continues below.
But as much as Ms Payne has made known her desire to return to riding, surviving such a horrific fall has made her take a step back and evaluate the next stage of her life.
"I feel like I've been treated more special than I am; I haven't saved any lives or anything," she said to the Sunday Herald Sun
"I love the industry, and I love riding horses, but if tomorrow doesn't feel right, then I want to have a think about doing something greater with my life. I'm still very keen to set up my training business, and possibly ride my own horses, but without the demands of being a full time jockey, I may be able to spend that time giving back to the community."
Ms Payne insists she is no hero and is considering ways she can do "greater things" with her life to give back to her community.
"I'm obviously really excited and nervous. It's not like any other comeback, but I've got a beautiful horse to ride and that makes me feel more confident," said Ms Payne who had been undertaking a gruelling training and fitness regimen to get race fit.
Ad. Article continues below.
"I've got great base fitness which will really help with my confidence. I've been doing similar work for the past eight weeks, going out to different country tracks such as Mortlake, Ararat, Burrumbeet and Casterton.
"The best part of the comeback is that I've had some trouble with niggling injuries in the past, but the time off has really helped them heal so I really am pain free. In either comebacks I've had to worry about losing weight which I have put on in other breaks, but this time, given the injury, and the surgery, I lost a lot of weight initially, and didn't put much back on.
"This has made getting fitter and coming back a lot easier."
Payne who won the hearts of Aussies after winning last year's Melbourne Cup, said her family had supported her decision to come back.
"Dad has been very supportive all the way along," she said. "I think he has faith in life and that hopefully I'll be all right in the future."
Ad. Article continues below.
Ensuring she completes every detail in her pre-race check is the key to getting her over the line today.
"Sometimes if I'm thinking too much about it and over-complicating things in preparation for a race, I just remember what someone taught me a long time ago, which is to tell myself 'just ride it'. I've had over 7000 race rides; it's second nature to me so it works every time," said Ms Payne who has been granted a joint trainer-jockey licence.
Payne's Melbourne Cup-winning horse, the Darren Weir-trained Prince Of Penzance, ran sixth at Flemington yesterday.
Do you think she's finally made the right decision?