Michelle Obama teases husband Barack in loved up interview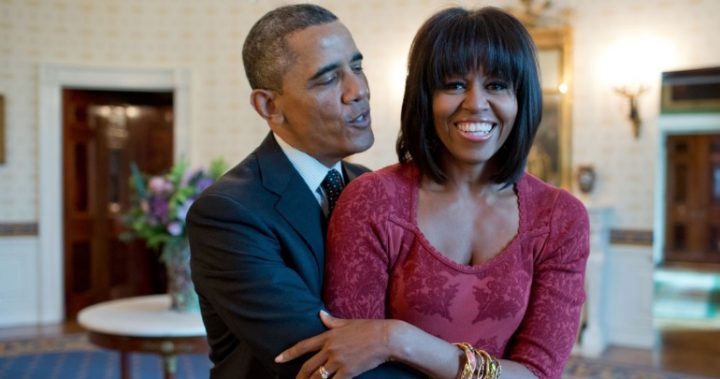 Barack and Michelle Obama have never shied away from having a laugh together in public and it looks like eight years in the White House hasn't changed the couple who have given one of their final interviews together as president and first lady.
The couple sat down with People magazine and looked as loved up as ever as they spoke about handing over the reigns to Donald Trump and how their children were coping with leaving their childhood home.
In a surprising revelation, it looks like Michelle was just as sick of the election as the rest of us, telling the magazine she went to bed before the election results were even called.
"I went to bed. I don't like to watch the political discourse; I never have. I barely did with him," she said, while Barack cracked up with laughter.
Ad. Article continues below.
Michelle has made no secret of her impatience with the drama that surrounds American politics, with Barack agreeing she gets fed up with the school-girl games many politicians play.
"Anything that I felt about the election I said and I stand by," she said. "Once you do what you can do, then the rest is easy. It was in the hands of the American people."
The Obamas will be facing a half-empty nest soon, with eldest daughter Malia having graduated from high school this year and getting ready to head out into the world and off to Harvard.
Ad. Article continues below.
However, while Barack called her "a grown woman" ready to fly the coop, Michelle seems to already be going through that classic emotion most mothers deal with when their kids move out.
"I don't know about that…She's still a baby!" she declared after Barack's comment.
Barack said both of their girls were feeling torn about moving out. While most of our kids love being able to come back to the family home they grew up in, the Obamas children won't be able to do that.
Ad. Article continues below.
"There's a sentimentality about this place, that they've had so many amazing experiences, and the staff are part of the family," Barack said.
"It is different for them than most kids in that when they leave, they won't be able to come home. Malia's spoken about how she regrets the fact that she won't have that home base in the same way."
The couple are gearing up to spend their final Christmas in the White House before they pack up and make way for president-elect Donald Trump.
The Obamas have already bought a new home in Washington so their youngest daughter, Sasha, can finish her schooling.
Are you a fan of the Obamas? How did you feel when your kids moved out of home?