Michelle Obama stuns as she opens the White House for Christmas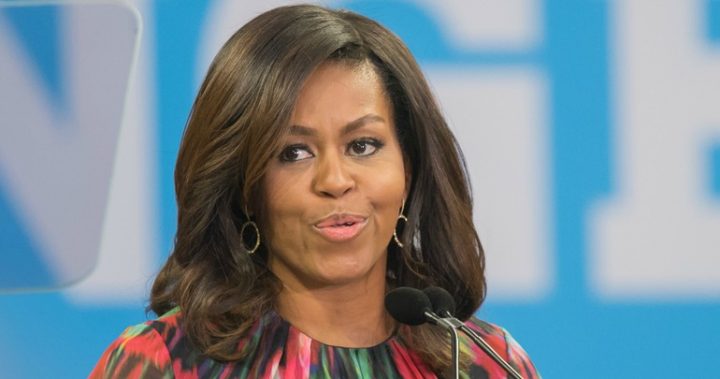 With the Obamas celebrating their final Christmas in the White House it seems only fitting they celebrate in true Obama style with plenty of laughs and hugs going around.
Michelle and Barack invited a number of military families to be the first to see this year's decorations, with the first lady revealing the theme for the year is Gift of Holidays.
Giving a speech to welcome the service men and women and their young families, Michelle said this year was all about celebrating their hard work and accomplishments.
"This year's holiday theme is The Gift of the Holidays," she said.
"We're going to be celebrating our country's greatest gifts, with special decorations celebrating our military families."
Ad. Article continues below.
Michelle looked absolutely stunning for the occasion, wearing a blue, silver and red print dress with a bow tied at the front.
She paired the dress with low silver heels and looked incredibly comfortable as she joined the kids for some crafting and joked around with the mums and dads.
The Obamas dogs Sunny and Bo are always a hit with young kids visiting the White House and it wan't long before Michelle brought them out for a bit of a pat and a cuddle.
Ad. Article continues below.
The first lady has become one of the most popular people in US politics over the past eight years, with many pushing for her to run for office one day.
While she has always shied away from the idea, in the last week a number of political campaign groups have started fundraising and petitions calling for her to run.
Three Political Action Committees wrote on their website that America needed a woman like Michelle to be in charge.
Ad. Article continues below.
"America needs a loving healer like Michelle in order to bring together factions of our divided nation to produce policy results," they say on their website.
"The goal of this movement is to get the ball rolling by identifying a network of supporters, volunteers and donors that would support Michelle in this endeavour.
Then, if she can be convinced to run, we can provide her with an early advantage against any opponents."
In the meantime, it looks like Michelle is happy enjoying her last days has first lady and getting into the Christmas spirit just like the rest of us.
Are you a fan of Michelle Obama? Do you think she'd make a good president? What do you think of her dress?