Michelle Obama showcases striking new style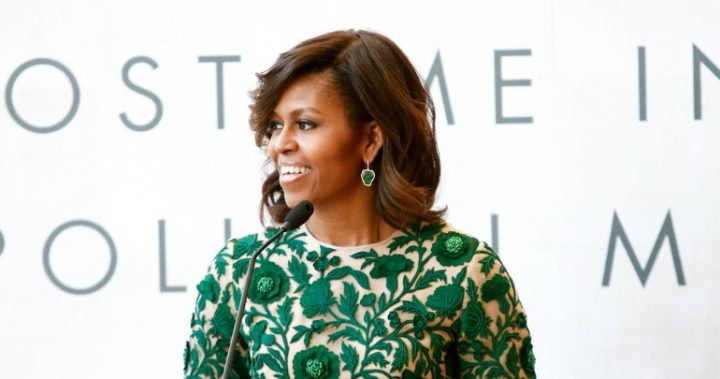 The relaxed beachy look has been banished; Michelle Obama was a vision in an edgy black dress at the Excellence in Sports Performance Yearly awards (ESPYs).
Fashionistas instantly recognised the look as a Cushnie et Ochs number from the Fall 2017 ready-to-wear collection.
Obama's outfit has been customised to eliminate the sequins and provide a more modest covering for her décolletage.
Paired with black heels and minimal jewellery, the elegant dress is flirty but refined, and perfectly suited to the former first lady's figure, cinching slightly at the waist.
Ad. Article continues below.
Obama's hair was swept back over her shoulders in a simple parted 'do – a marked difference from the beautiful curls she's been sporting since leaving the White House in January of this year.
Her entrance resulted in an immediate standing ovation.
Obama was on stage to present the Arthur Ashe Courage Award. The honour goes to Eunice Kennedy Shriver, who founded the Special Olympics almost 50 years ago.
Ad. Article continues below.
The Special Olympics is the world's largest sporting organisation that supports adults and children with intellectual disabilities.
Obama refers to Shriver as a "remarkable woman" who believed "everyone deserves a chance to push themselves and find out what they're made of".
Her son and the chairman of the Special Olympics Timothy Shriver accepted the award from Obama.
Shriver says he is "deeply, deeply honoured" by Obama's presentation.
Ad. Article continues below.
"Once a first lady, still a great first lady," he says. "Our mother would have loved you – your forthrightness, your honesty, your toughness."
The award is named for Arthur Ashe, a professional tennis player and a campaigner for human rights.
What do you think of Michelle Obama's new look?