Michelle Obama reveals candid truth about her time as first lady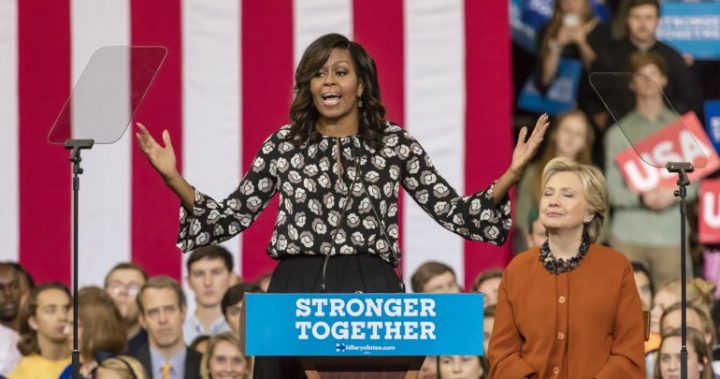 When Michelle Obama was asked to speak at the 30th anniversary of the Women's Foundation of Colorado, there was never any doubt it would be a sold-out event.   
More than 8,000 fans packed into the Pepsi Centre in Denver to hear the former first lady talk candidly about her time in the White House.
Obama looked totally at ease in front of the enormous crowd, beaming and waving through a standing ovation before taking her seat.
YASSSS!!! @MichelleObama #WFCO pic.twitter.com/FgdYaQleIS

— Sarah Cullen (@sarahcullen333) July 26, 2017
Ad. Article continues below.
The sleeves on her long pink dress came to Obama's wrists, hiding her toned arms, and she opted for minimal jewellery. Smart white stilettos complemented the white floral pattern on the dress.
Audience members couldn't wait to share Obama's advice, taking to Twitter to reveal the things they found most poignant and sharing photos of the packed stadium.
The two shared some laughs throughout the interview, but Women's Foundation CEO and president Lauren Casteel didn't pull any punches, asking Obama about her experience as the first black first lady.
Ad. Article continues below.
"The shards that cut me the deepest were the ones that intended to cut," Obama said. "Knowing that after eight years of working really hard for this country, there are still people who won't see me for what I am because of my skin colour."
Obama encouraged women to "seize your power and don't let go". She encouraged audience members to approach their work and creative endeavours with "an air of empathy and compassion".
Obama returned to her metaphor of glass shards to remind women that fighting for equality would not be an easy thing.
Ad. Article continues below.
"We don't break through glass ceilings without getting cut by the falling shards," Obama said, urging women to own their hardships so that younger generations could learn from them.
"We don't break through glass ceilings without getting cut by the falling shards." Michelle Obama #WFCOTogether #WFCO

— SuCh (@SuCh) July 26, 2017
"I am a strong woman because of other strong women," she said. "You don't mother alone, you don't grandparent alone, you don't struggle alone. You find your community."
What do you think of Michelle Obama's message?