Michelle Obama opens up about her night in Buckingham Palace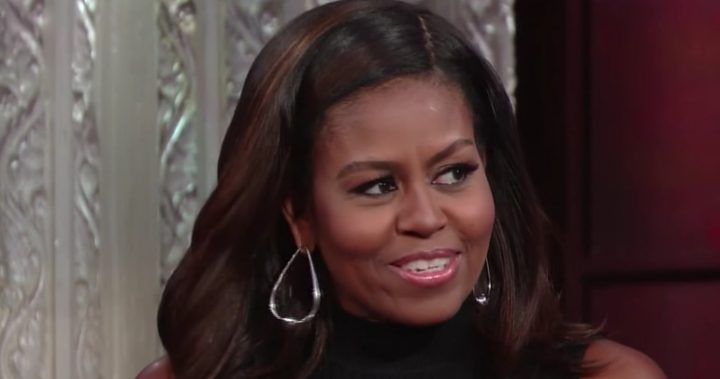 As if you didn't need another reason to love First Lady Michelle Obama, she's opened up about her sleepover at Buckingham Palace – and her highlight is hilarious.
Michelle appeared on The Late Show with Stephen Colbert this weekend and dished out on her eight years in the White House.
While she made the audience laugh with her impersonations of her husband Barack, it was her description of Buckingham Palace that's got us all laughing along with her.
Michelle told Colbert sleeping at Buckingham Palace was a "highlight" – and the best part?
Well, apparently the Queen's chefs make a mean plate of French fries.
Ad. Article continues below.
"I do remember ordering some fries," Michelle said.
"They were good. They have good fries at the palace."
The Obamas were guests of the Queen at the palace in 2011.
Colbert asked Michelle if she got cosy with the Queen.
Ad. Article continues below.
"Did you and the Queen paint each other's toe nails?" he asked.
While Michelle said they didn't get that close, the Obamas have maintained a good relationship with the Royal family.
They've also had lunch with the Queen and Prince Philip at Windsor Castle, met Prince George in his pyjamas, and dined with Princes William and Harry and Dutchess Catherine at Kensington Palace.
Michelle is also close with Prince Harry, with the pair recently pictured together at the start of the Invictus Games.
If you missed Michelle on The Late Show, she certainly had more to talk about than just the Royal Family.
Ad. Article continues below.
She also talked about the infamous Melania Trump 'plagiarism' saga and Bill Clinton.
Michelle told Colbert she had "no sympathy" for Melania Trump or Bill Clinton during the election campaign, stating they have to go there "and stand by the person running for president".
"If you don't agree, you should've agreed before they ran," she said.
"If I didn't agree with what Barack was saying, I would not support his run. So I stand there proudly, and I hope they are too."
Do you love Michelle Obama's sense of humour? What do you think of her comments about Melania Trump and Bill Clinton?