Michelle Obama leaves audience in tears after surprising fans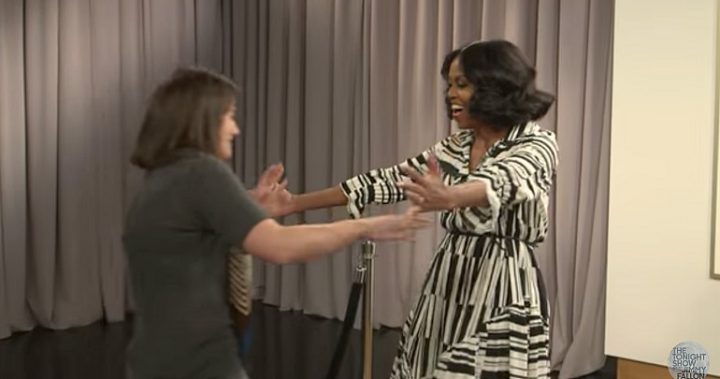 First Lady Michelle Obama has pulled off one of the most heartwarming pranks ever by surprising some of her biggest fans when they least expected it.
Michelle was on The Tonight Show when she and host Jimmy Fallon decided to trick some unsuspecting supporters into thinking they were part of a segment thanking the first lady for her service.
Jimmy set up a large portrait of Michelle in a room and had people stand in front of it and tell her why they were going to miss her and what she meant to them.
Each said they had been profoundly influenced and changed by Michelle and believed all their responses would be compiled into a video and shown to her at a later date.
Boy were they in for a shock! Michelle was hiding behind a curtain with Jimmy listening to everything they were saying and when she popped out the tears started flowing almost immediately.
Ad. Article continues below.
The whole thing is enough to make you laugh and cry at the same time!
It's no secret Michelle has been one of the most popular first ladies in recent history with many calling for her to run for president herself one day.
She's used a lot of her time in the White House to get out amongst the people and hasn't been afraid to roll up her sleeves and do some hard work, too.
Later in the show, musical legend (and Michelle's favourite singer) Steve Wonder sang her a special version of 'My Cherie Amour', changing the words just for her.
'"I love you Michelle," he started off. "I must tell you, I wrote this song but I changed the words a little.
Ad. Article continues below.
"My Michelle amour, lovely as a summer day. My Michelle amour, as sweet as flowers bloom in May. My Michelle amour, you're the only one that we adore," he sang.
"You'll always be first lady in our minds."
Take a look at the hilarious video and tell us if it put a smile on your face!
Are you a fan of Michelle Obama? Do you hope Melania Trump takes a similar approach to the role?