Michelle Obama bites back at Trump in emotional speech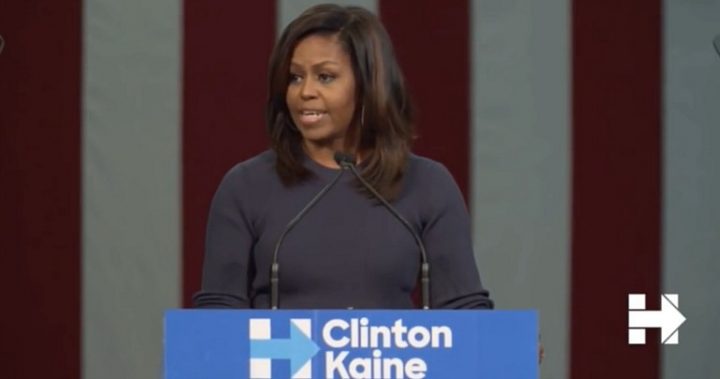 First lady Michelle Obama has just delivered what many are calling the most powerful speech of the election and her career.
Standing in front of a room full of hundreds of people, Michelle spoke for 25 minutes about Donald Trump's lewd remarks about women and his bragging about groping and touching them whenever he wanted.
Her face was shaky throughout the speech as the emotion behind her words became clear.
"I can't believe that I'm saying that a candidate for president of the United States has bragged about sexually assaulting women," she said.
"I can't stop thinking about this — it has shaken me to my core.
Ad. Article continues below.
While there have been many comments made about the leaked recording of Trump bragging about kissing and groping women without their consent, Michelle's speech brought many people to tears.
"I feel it so personally," she said to the packed audience.
"It's like that sick, sinking feeling you get when you're walking down the street minding your own business and some guy yells out vulgar words about your body, or when you see that guy at work that stands just a little too close, stares a little too long so you feel uncomfortable in your own skin."
At the same time Michelle was delivering her speech, Trump was speaking at his own rally where he brushed off the controversy and accused the women who had come forward to say he groped them of lying.
The controversy surrounding the leaked recording as divided many, with some saying he was joking around in private and others saying it proves he is not fit to run the country.
What are your thoughts on Michelle's speech? Do you agree with her? Would you vote for Trump?