Michelle and Barack Obama deliver hilarious final Christmas message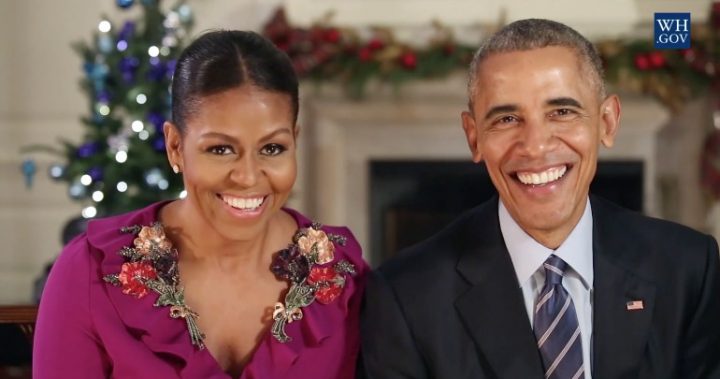 The president and first lady Barack and Michelle Obama have delivered their final Christmas message at the White House, laughing their way through much of it.
The couple were happy and smiling throughout, with Michelle taking a dig at her husband and showing a flashback to their first message in 2009 when Barack kept interrupting her in a fit of laughter.
She also took aim at his dad jokes, which she said the American people had suffered through during his time as president.
"Merry Christmas everybody!" Michelle started.
"Celebrating the holidays in the White House over these past eight years has been a true privilege. We've been able to welcome over half a million guests, our outstanding pastry chefs have baked 200,000 holiday cookies, and Barack has treated the American people to countless dad jokes."
Ad. Article continues below.
"Although a few got a Frosty reception," Barack was quick to respond, forcing an eye roll from his wife.
They went on to talk about the work they had done over the years and wished everyone a happy new year, making fun of one of their dogs, Sonny.
"On behalf of all the Obamas, Michelle, Malia, Sasha, Bo and that trouble maker Sonny, Merry Christmas everybody."
Next year, it will be Donald Trump and his wife Melania delivering the message, with Trump set to take office on January 20 next year.
While fans of the Obamas are sad to see them go, many Trump fans are looking forward to his different style of management and are hoping he can cause change around the world.
Are you sad to see Barack and Michelle leave? Or are you looking forward to a Trump presidency?