Michele Payne has a reason to celebrate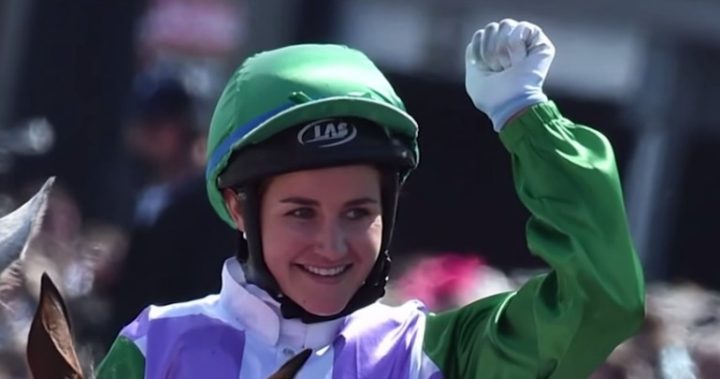 Michelle Payne has had to endure several heartbreaks. Everyone can remember her horrific fall in a race at Mildura after which she had to undergo emergency surgery as her pancreas tore. This eventually caused her to become a diabetic. Not only that, her dreams to once again ride last year's winning horse was shattered as the owners of Prince of Penzance advised her to retire. She's even had to see Prince of Penzance listed for a race – without her name in it.
Now, Michelle Payne has a good reason to celebrate – she has just been nominated for the 2016 "The Don Award".
"The Don" Award, named after Sir Donald Bradman, was created in 1998 by The Sport Australia Hall of Fame to honour a current Australian athlete or team who, by their achievements and example over the last 12 months, are considered to have had the capacity to most inspire the nation.
Ms Payne is not the only one who will vie for the award, others include three Olympic stars, two inspiring Paralympians, a rugby league immortal in waiting and a history-making rugby sevens team.
The Sport Australia Hall of Fame this morning released its shortlist for one of Australia's most prestigious awards, with our athletes' feats in Rio fresh in the mind as well as prominently placed among the nominees, reports News.com.au.
Swimmer Kyle Chalmers and rower Kim Brennan both won gold in August and have been nominated as a resulted.
Anna Meares may not have stood atop the podium once more, but in becoming Australia's most successful female cyclist by winning a sixth Olympic medal she once again inspired a nation — one of the award's key hallmarks.
Ad. Article continues below.
All-star wheelchair tennis athlete Dylan Alcott and war veteran turned canoeing gold medallist Curtis McGrath wowed us during the Paralympics, while in winning the first ever sevens gold medal our women's Olympic rugby team may well have young girls around the country taking up the sport in droves.
Away from Rio, Johnathan Thurston's all-round rugby league feats — not least his premiership-winning field goal for North Queensland in the 2015 NRL grand final — have resulted in nomination, while in becoming the first ever female jockey to win the Melbourne Cup, Michelle Payne's heroics on Prince of Penzance have also been recognised.
Selection committee chairman Rob de Castella AO said it is not "the sports star or team" of the year award.
"It's an award that seeks to capture, celebrate, recognise and reward the individual or team who has 'most inspired the nation' through their performance," de Castella said.
"It is easy to be bedazzled by phenomenal athleticism and amazing sporting excellence, and there is nothing wrong with this.
"Indeed it is one of the greatest things about sport." Golfer Jason Day won the award in 2015 and "The Don 2016" will be awarded on October 13.
Do you think Michelle Payne deserves to win this?