Michael Moore thinks a Hollywood celebrity can beat Trump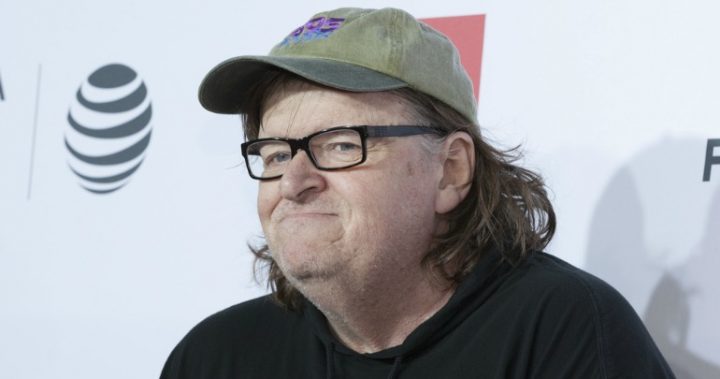 It wouldn't be the first time a Hollywood star has become President of the United States, so when controversial film maker Michael Moore put forward the suggestion that another one run against Trump in the next presidential election, it no doubt made a lot of people think "why not?"
Moore appeared on talk show The View, and suggested that the Democratic part run one of the country's most beloved actors next time around. 
And that star was none other than Oscar winner Tom Hanks!
"We need to run a beloved American in 2020", he said. 
"If we ran Al Franken, ran Tom Hanks — who wouldn't vote for Tom Hanks for president of the United States? C'mon! Or Oprah!"
Ad. Article continues below.
Read more: Michael Moore's morning after election to-do list is going viral
Whoopi Goldberg, a panelist on the show suggested that Moore himself run, with Michelle Obama as his running mate!
If Twitter responses are anything to go by, Moore might be onto something with his suggestion. 
@chrisparente Tom Hanks for president? Yes..Forrest Gump! and dump the Trump! He'd do a better job! ?

— Gayl T (@Momotaro15) August 4, 2017
Ad. Article continues below.
Jedediah Bila, another host on the show argued that Donald Trump has proven that celebrities don't work, but Moore counter argued that Americans love celebrities. 
"No. I'll tell you … many Americans feel that those celebrities are out of touch", said Bila. 
"A lot of people would tell you 'they don't understand my needs.'"
"Wrong", replied Moore. 
"We're on TV right now. Americans love celebrities. 
Ad. Article continues below.
"It's very clear that America loves celebrities, 'cause that's why they voted for him," Goldberg said (of Trump).
"They thought they knew him."
No doubt people laugh at the suggestion of a President Tom Hanks, but they laughed about the idea of a reality TV star as president too. 
What do you think of the suggestion?