Michael Clarke tells all in revealing interview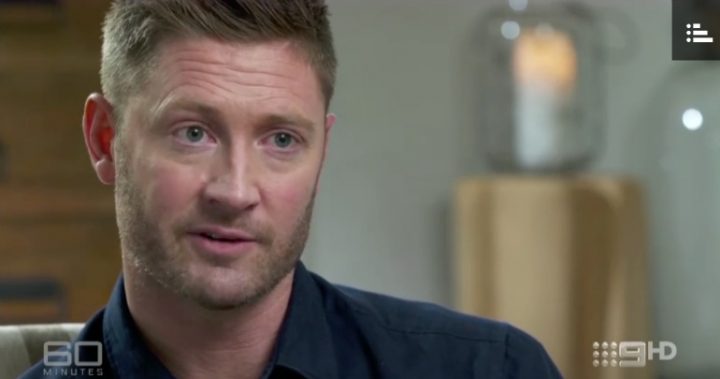 Former Australian cricket captain Michael Clarke has opened up in a tell-all interview, finally confirming his locker room bust up with teammate Simon Katich and saying he never wanted to be captain.
In the interview with 60 Minutes, Clarke confirmed his post-match fight with Katich, an altercation which saw Katich grabbing him by the throat.
"I think a lot of us were getting wound up," he said.
"So I think I had every reason to be pissed off. But I don't think my language was appropriate to Kato."
The argument was said to have started because Clarke wanted to get the team song over and done with so he could attend a function.
Ad. Article continues below.
Since Clarke was the official leader of the victory song, 'Under the Southern Cross I Stand', Katich believed the captain shouldn't have left until it had been sung.
Katich spoke about the argument during a commentary stint on ABC Grandstand last year.
"There was a little bit of a rush that night to go onto the next venue," he said.
"Michael Hussey was particularly keen to stay in the dressing rooms, Matty Hayden was sitting down there in what turned out to be his last Test match. He wanted to savour the moment in those SCG dressing rooms.
Ad. Article continues below.
"As we all know there was a little bit of a disagreement in terms of when that timing should be, as a result of that I got a little bit … it bugged me."
In his chat with 60 Minutes, Clarke admitted Hayden was angry over the incident.
"It turned out, I found out four days later, that Matthew Hayden was going to retire after that Test match," he said.
"So I think Haydos was pissed off as well that that happened in his last Test."
Ad. Article continues below.
Clarke's Captaincy was fraught with controversy, with reports of a rift between himself and former captain Ricky Ponting and his high-profile break up with model Lara Bingle.
Saying he wasn't has good a captain as Ponting, Clarke claimed he never even wanted the top job.
"I don't think I was a good vice-captain at all," he said.
"As soon as I got given the vice-captaincy, I think the perception was I was automatically the next captain and that built …
Ad. Article continues below.
"I think he (Ponting) feels that I let him down. I think if I performed well, I was happy. If I performed badly, I was shattered.
"Not at all. I never dreamt of captaining Australia. I couldn't care less if I captained Australia early on. It made no difference. I was really happy with where I was; I had my own goals."
Did you see the interview last night? Where you a fan of Michael Clarke has captain?