Meryl Streep takes on Trump in another powerful speech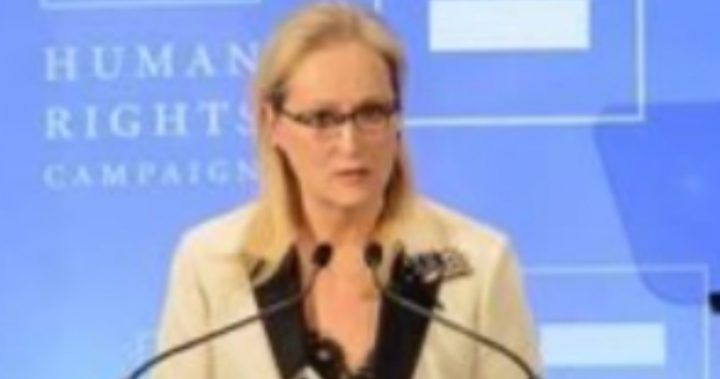 Remember when Meryl Streep got on stage at the Golden Globes last month and made a powerful speech about US president Donald Trump?
It made headlines around the world, and even led to Trump describing her as "one of the most over-rated actresses in Hollywood" on Twitter.
Now, she's responded with another speech at a Human Rights event in New York.
Entertainment Weekly reports Streep not only mocked his tweet about her, she also took aim at his "catastrophic instinct to retaliate".
"We shouldn't be surprised that fundamentalists, of all stripes, everywhere, are exercised and fuming," she said in her speech.
Ad. Article continues below.
"We shouldn't be surprised that these profound changes come at a much steeper cost than it seems would lie true in the 20th century. We shouldn't be surprised if not everyone is totally down with it. But if we live through this precarious moment… if his catastrophic instinct to retaliate doesn't lead us to nuclear winter, we will have much to thank this president for because he will have woken us up to how fragile freedom really is… The whip of the Executive can, through a Twitter feed, lash and intimidate, punish and humiliate, delegitimise the press and imagined enemies with spasmodic regularity and easily provoked predictability.
"Yes, I am the most overrated, over-decorated, and currently, over-berated actress… of my generation. But that is why you invited me here! Right?"
As you would remember, her Golden Globes speech didn't mention Trump by name and it was a trend she continued in her latest speech.
Just like the Golden Globes speech, some people who are critical of Hollywood actors and actresses talking about Trump, have criticised Streep for speaking out again.
Others have commended her for standing up and speaking out.
Ad. Article continues below.
And just like most things Trump-related, it's sure to divide opinions here at Starts at 60 too.
What do you think of Meryl Streep's speech? Do you applaud her speech? Or do you think she should lay off Trump?