Melissa Little pens emotional letter about her boys and husband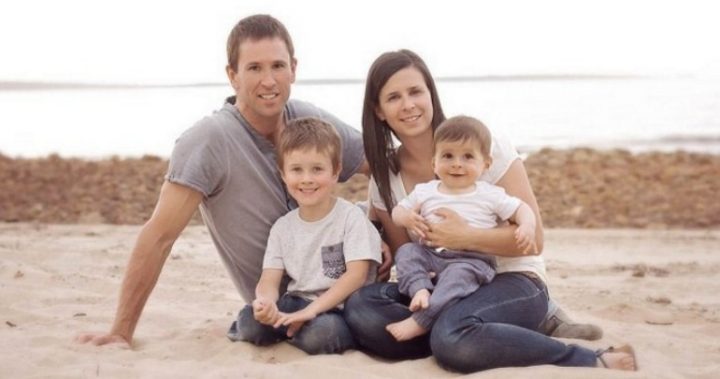 The entire country grieved with Melissa Little earlier this year after the tragic deaths of her husband and their two young boys.
In January, Damian Little shot and killed the couple's sons Koda, 4, and Hunter, nine months, before driving their car off the wharf in Port Lincoln, South Australia, and taking his own life.
Read more: An incredible show of strength as Port Lincoln family laid to rest
It was later revealed that Damien had been suffering from depression and had struggled with the illness for a number of years.
Now, Melissa has written an emotional letter detailing how she has tried to deal with her grief and how she wants her husband to be remembered.
Ad. Article continues below.
"As I tried to deal with each day, as well as try to understand that no one could have helped my husband with his private and personal battles, I had to face the world again," she said in the letter printed in The Advertiser.
"The tragic event that took place in January has left me broken hearted. The loss … has left me with only precious memories to hold. No matter how I chose to deal with my grief, not a single day goes by without my boys in my thoughts.
Read more: A letter to you from the mother whose children were killed by their father
"The more I tried to understand the 'why' behind the tragic events, the more I realised I couldn't have changed things. So, one day at a time, I tried to find strength to rebuild my life."
She said she had walked the Kokoda Track a few months ago — after which Koda was named — as they had always dreamed about doing it as a family when he was old enough.
Ad. Article continues below.
"I felt a strong presence of my boys, they were there with me on the track, which got my though each day," she wrote.
"My precious boy Hunter never got the opportunity to take his first steps so I continued to take small steps forward for him. I could also hear Koda cheering me on when the going got tough. Hopefully I made them proud."
While the public was initially outraged by Damien's actions, the revelations about his mental state opened up the dialogue about the need to have more support and help available for those suffering from mental illness.
Only days after the tragedy first occurred, Melissa, 30, released a statement asking people not to blame her husband.
"Words cannot express the pain I have felt since [the incident]," the primary school teacher wrote.
Ad. Article continues below.
"Damien was my childhood sweetheart who became my husband. He was also a father who loved his two children very much.
"My wish is for Damien to be remembered as a well-respected and valued member of our family and community.'
Do you have a message of support for Melissa? Do you think we need to do more for those suffering from depression and mental illness?