Melania raises eyebrows in sleeveless dress in Poland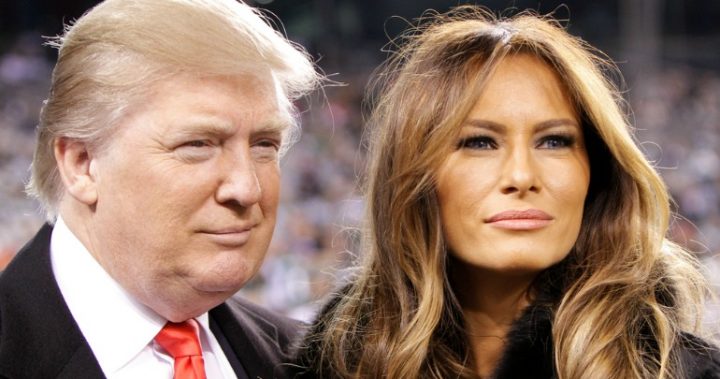 First Lady Melania Trump has stepped out in a sleeveless number in Poland, as she and Donald Trump met with the Polish President Andrzej Duda and the First Lady of the Poland Agata Agata Kornhauser-Duda, at Krasinski Square, near the Warsaw Uprising Monument. 
She wore a striking dress by Spanish designer Delpozo, which is sleeveless and navy at the top, graduating to a bolder and more intricate design in its tea-length skirt, with pink, blue, and red stripes and patterns.
Read more: Melania Trump makes even THE trickiest trousers look stylish
She accessorised the designer dress a pair of vibrant pink stilettos, and it was almost as though Melania and Poland's First Lady had planned their pink outfits!
Ad. Article continues below.
Some have pointed out that the First Lady's sleeveless number is a little hypocritical given the House recently refused entry to a reporter who was wearing a sleeveless outfit, deemed inappropriate. 
Strange policy, considering both #Ivanka and #Melania wear sleeveless dresses to EVERY event, at ANY time of day, in ANY climate. https://t.co/YyMymHZNyy

— EV (@EVdj1919) July 6, 2017
CBS reported on the incident, saying that the rules around attire are not clear cut, with one stating that "appropriate" business attire is required. 
Ad. Article continues below.
Read more: Melania forced to defend her marriage after personal attack
"Members should wear appropriate business attire during all sittings of the House however brief their appearance on the floor may be," states one. 
It was also pointed out on social media that former First Lady Michelle Obama was regularly slammed for wearing sleeveless outfits, with some deeming the lack of outcry against Melania racism.
Outrage! Melania Trump in a sleeveless top in Poland. Where are all the racist women that condemned Michelle Obama for going sleeveless?

— Mr. Reynolds (@melreynoldsU) July 6, 2017
Do you think it's inappropriate for Melania to go sleeveless for official events?