Meet the new Marlboro Man... 'Jeff We Can'! #jeffwecan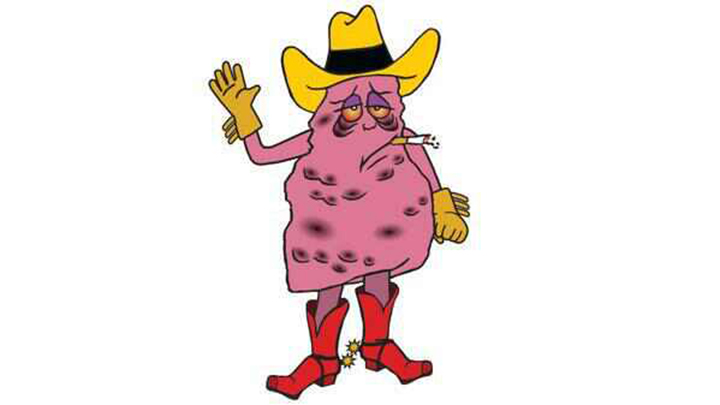 If you've ever smoked you will know the pain of giving up and the incredible battle those who smoke still fight against every day. Now one American TV star has decided to fight the power of the cigarette using the world of social media. And you can be part of the solution …
John Oliver set up his battle in an 80 minute rant on his American show, Sunday's Last Week Tonight, calling on his viewers to push "Jeff the Diseased Lung" trend on Twitter and Facebook, to make it the face of major tobacco products like Marlboro and Phillip Morris when they are searched for on the Internet.
Let's make Jeff the Diseased Lung the new face of #Marlboro by getting #JeffWeCan to trend worldwide! pic.twitter.com/0tfLVV7YCT

— Last Week Tonight (@LastWeekTonight) February 16, 2015
Ad. Article continues below.
Oliver has succeeded in his plan to get this image shared on social media so many times that it rises to the top of the Google Image searches on the Internet.
And, just a day later, he is doing a pretty good job with media channels on every corner of the planet featuring his campaign!
Australia was hailed by Oliver as a strong example that the rest of the world should follow, with him noting that Australia's cigarette revenues fell dramatically when they introduced plain packaging.
Ad. Article continues below.
Oliver's fight lies with the fact that outside places int he US and Australia, cigarettes are still a massive a popular part of life.  He says in his rant that it is because of the tobacco companies' ability to fight public health in court.
"At this point, it's safe to say if you live in an apartment with at least two other people and you ask one of them to please smoke outside," Oliver joked about how smoking works in some corners of the world, "you can look forward to a letter from a tobacco company very soon."
Smoking is still the largest preventable cause of death in Australia, and one of  the leading causes of death in the US, even though the share of adults reporting current use of tobacco products plummeted from 42.4 percent in 1965 to 19 percent in 2011.  There is a tobacco-related death about every 28 minutes in Australia, adding up to more than 50 deaths each day.
This sad tragedy is something we can avoid through an adaptation to the acceptance of smoking as an activity of choice.
And so we ask you to get on board… and invite your friends to meet the new Marlboro Man, and make him permeate the Internet.
Tell us… Do you smoke?  When did you give up?  Or what is stopping you?