Maureen McCormick fights tears remembering her television mother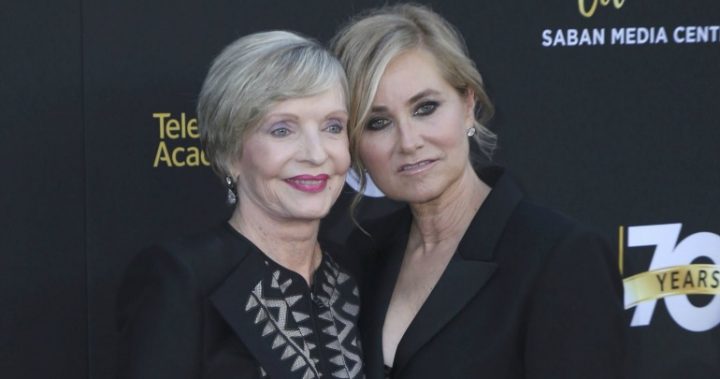 On television Florence Henderson was Maureen McCormick's doting mother, and in real life the two were the closest of friends. When Henderson passed away on Thursday, November 24 you can imagine how shocked McCormick must have been.
The 60-year-old spoke exclusively to Entertainment Tonight about the enormous impact Henderson's death from heart failure at the age of 82 had on her.
"Just total disbelief. Just total disbelief. I had just been with her. I'd just seen her. I thik everyone was shocked," McCormick says when asked about her immediate reaction to Henderson's death.
Ad. Article continues below.
"She was an incredible example of how to live your life," McCormick says. "She was that sweet. She really was. She was the loveliest of ladies."
When McCormick starred in the most recent season of the United States' Dancing with the Stars, Florence Henderson was one of her biggest supporters. She even appeared in the audience on several occasions, and looked much younger than her actual age.
McCormick first met Henderson at the age of 12 and says she was overwhelmed. When The Brady Bunch wasn't filming, McCormick says she would spent time with Henderson at the Henderson family home, and despite their 22-year age gap they maintained a strong bond that lasted under Henderson's death.
Ad. Article continues below.
"Throughout my life, she has been a huge supporter in my hard times," McCormick says.
The girl fondly remembered for playing Marcia Brady broke down in tears when she read a text message from Henderson the day after the dancing show was taped.
"She said, 'Hi, sweet Maureen. I got so many calls and messages saying how wonderful you were last night, and you were. Thanks so much for dinner," she says.
"I'll never ever get rid of [those texts]."
EXCLUSIVE: Maureen McCormick fights back tears remembering Florence Henderson, her TV mom and best friend. https://t.co/CQXHaRxCJT pic.twitter.com/rI3prsSyBi

— EntertainmentTonight (@etnow) November 29, 2016
Who is someone that has had a profound impact on your life? Were you a fan of The Brady Bunch?