Mariah Carey demands huge payout from James Packer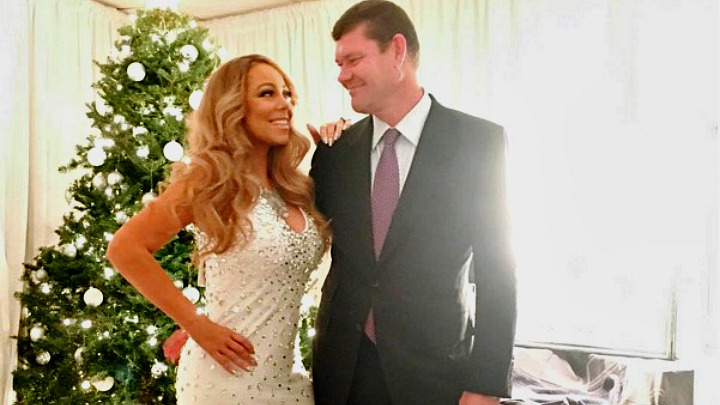 Their breakup made headlines around the world and it looks like things are only getting messier for singer Mariah Carey and billionaire James Packer as she tells him to pay up.
Mariah is said to have ended things after James demanded she sign a $30 million prenuptial agreement, which she branded as "tacky and insulting".
Now though, she is demanding an "inconvenience fee" of $US50 million, claiming their breakup left her depressed and put a dent in her bank balance, reports The Australian.
Mariah says James disrupted her family by making her relocate with her young twins and now she wants him to pay.
Ad. Article continues below.
"He moved her across the country and relocated her and her kids," one of Mariah's staff members told the E! channel. "He made promises that weren't fulfilled. She wants an inconvenience fee."
The exact reason for the breakup is not yet clear as both Mariah and James' camps claim different tensions lead to their demise.
Sources from James' side have said he was annoyed with her spending habits and how her new reality show exposed private parts of their life together.
Ad. Article continues below.
The show follows the singer around as she tours and also gets up close and personal in her home life, showing her children and James before the split.
However, Mariah's team has disputed the claims, instead saying it was the prenup and James' interest in controversial religion Scientology that caused the split.
James is said to have been spurred on by his business partner Tommy Davis, who also tried to intervene over Mariah's spending.
"Mariah was stunned," a source said. "To see the man you are going to marry change overnight – it was like he was a different person.
Ad. Article continues below.
"She became very concerned and didn't know how to deal with his sudden change of heart. It is heartbreaking for her."
Whatever the reasons for the breakup though, it looks like Mariah is coming after James for a significant amount of money to cover the costs of uprooting her life for him.
Do you think this is fair? Were you surprised to hear about their break up?