Man takes daughter to the ladies' loos ... Outrage ensues!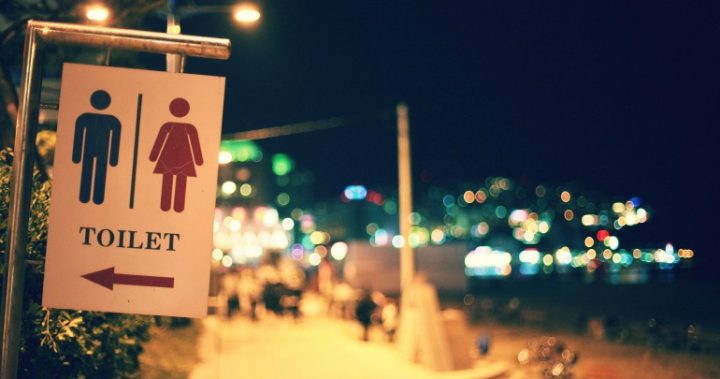 It is a dilemma that all parents and grandparents face when they go out in public and a little one needs to go to the bathroom: what toilet do you use, the ladies' or men's?
It is common to see mothers taking their little boy or girl into the ladies' bathroom for a toilet break but for fathers, the decision is a bit trickier, as a fierce online debate has just highlighted.
An anonymous mother posted on the super-popular Mumsnet site about her husband's habit of going into the ladies' toilets with their young daughter. 
"When [our four-year-old daughter] needs the loo in a public place, he takes her to the ladies' loos," the mother wrote. "I told him that women don't like that and he should take her to the men's loo. AIBU [am I being unreasonable] or is he?"
Plenty of people were quick to have their say, and some of the options were pretty forthright. Many thought that the father was deeply in the wrong by taking his daughter to the women's bathroom.
Ad. Article continues below.
One wrote: "I've never ever seen a man in a ladies' toilet and it's not appropriate for them to be in there. You don't see women taking boys into the men's because that's their correct toilet."
But others said that the dire state of men's bathrooms was a good reason for the husband to head to the ladies' with his daughter. 
"I still have memories of being taken into men's loos as a child (shudders)," one woman commented. "They are horrible. But mostly the memories are sound and smell as my father had his hands over my eyes for the majority of the time."
As the debate raged on, there were also a few people who suggested the father should use the disabled toilets, sparking further rage from commenters because of the risk a person with a disability may need to use the bathroom at the same time.
It's sometimes hard to get things right, these days, with many people taking offence over what may seem to be straightforward issues. 
Ad. Article continues below.
As one Starts at 60 reader commented recently, he felt obliged to treat his granddaughter quite differently to how he treated his daughter. 
"I have to approach grandparenting very differently nowadays as to not make myself a target for unfair criticism … which is quite sad," the reader noted. "It means I can't put my little granddaughter on my shoulders or lap like I could with my own daughter 30 years ago."
Who do you think is in the right on this occasion? Do you find modern mores hard to figure out on some issues?