Malcolm Turnbull unleashes on One Nation, gets rare agreement from Bill Shorten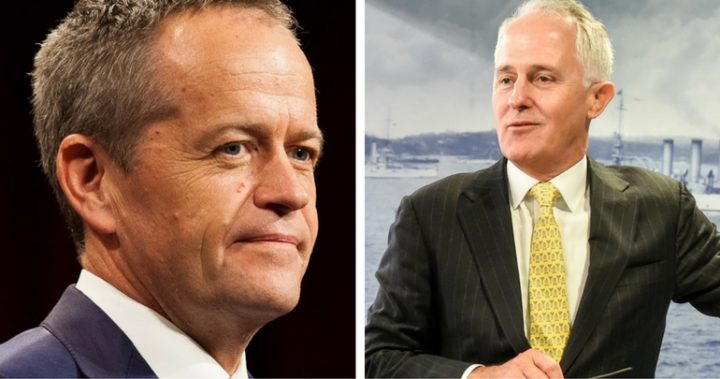 While racial intolerance has made stark, unsavoury headlines of late, Australia's leaders came together in a rare show of unity on Monday to fight back and reaffirm Australia as "the most successful multicultural society in the world".
Prime Minister Malcolm Turnbull and opposition leader Bill Shorten both took the floor in the House of Representatives on Monday to speak in favour of a formal motion of racial tolerance in the parliament.
Mr Turnbull was slated to begin his speech at 12pm, the exact time the U.S. presidential debate was meant to begin. Whether the timing was coincidental, intentional or just an accident of scheduling, the leaders of Australia's two main political parties spoke of welcoming Muslims and refugees while Donald Trump, the aspiring leader of the free world, backed in his previous comments about "extreme vetting" of Muslims and suspicions about the intentions of refugees from war torn parts of the world.
The motion, moved by Mr Turnbull, stated that the House of Representatives reaffirmed the commitment to equal rights and respect for all "regardless of race, colour, creed or origin"; to an immigration policy "wholly non-discriminatory" on race or origin; to reconciliation with Aboriginal and Torres Strait Islander people and redressing "profound social and economic disadvantage"; the commitment to Australia as a "culturally diverse, tolerant and open society"; and, perhaps most poignantly in the context of politics both domestic and international, "denounces racial intolerance in any form as incompatible with the kind of society we are and want to be".
The motion stands in contrast to Pauline Hanson's maiden speech last month, where she said Australia was "in danger of being swamped by Muslims who bear a culture and ideology that is incompatible with our own".
Ad. Article continues below.
Read more: Pauline Hanson causes walkout during her first parliamentary speech
In his speech, Mr Turnbull said the aim of terrorists was to create division and fear.
"An inclusive nation is a safer nation. It enables our security agencies to better protect us. It enables them to secure the support and assistance of the Muslim communities without which they cannot keep us safe," Mr Turnbull said.
"Australia's migrant story tells us that if we keep learning from each other, opening our doors, our hearts and our minds, harmony will win out."
An Essential Media Poll found recently that 49 per cent of Australians supported the views of Senator Pauline Hanson, who called on the Government to ban Muslim immigration.
Ad. Article continues below.
A study released yesterday by the Australian National University found 45 per cent of Australians feared they or their family members could be affected by a terrorist attack on home soil.
Mr Turnbull said the concerns of Australians were clearly "real" but the most effective weapon would be inclusion.
"The object of these terrorists is to divide Islam by driving a wedge of violence between Muslims, between Sunni and Shia and to turn Muslims against the West and the West against Muslims," the Prime Minister said.
"The resolution of this conflict within Islam will ultimately depend on Muslims, but in the meantime the Islamist terrorists have succeeded in raising levels of anxiety about Muslim immigration, about the role of Islam itself within Australia."
"The glue that holds us together is mutual respect – a deep recognition that each of us is entitled to the same respect, the same dignity, the same opportunities," Mr Turnbull said.
Ad. Article continues below.
"Muslim Australians are an integral part of our Australian family… While there are Muslim Australians, including converts, who support the terrorists and seek to do us harm, they are a tiny minority whose madness offends and appalls Australian Muslims, as much as it does the wider Australian community."
While dedicating a section of his speech to Muslims, the PM also reserved a section for Australia's Indigenous people, and outlined his hope for Aboriginal people to be recognised in the constitution.
"We want to ensure our First Australians are not just surviving, but have the opportunity to thrive, to excel, to live the life of their choosing with meaning and purpose in a way that matters to them," he said.
"We recognise that healing takes time. But the commitment our generation has made to improving this relationship is a vitally important one. I look forward to the day that our nation's founding document – our Constitution — recognises and respects our First Australia and thus reflects Australia as it is now, not how it was imagined over a century ago."
Mr Shorten rose to support the motion, adding his own thoughts to the idea of racial tolerance in Australia.
Ad. Article continues below.
"In this place we should stand always up for our values – and our national identity – in its most generous and fullest sense," he said.
"As leaders, we have a responsibility to unite – not divide. To reject the falsehood of a strong man or strong woman imposing simple 'us versus them' solutions, which only lead to bleaker outcomes. To reject the false choice between faith or nation, between a person's heritage and their hopes for the future. Instead – with this motion today we say to all Australians – no one part of you defines all of you. And it should not define your destiny."
Mr Shorten went further in his words about Indigenous people, saying formal recognition would "strike racism from the pages of our constitution", and spoke strongly of not just tolerating diversity but embracing it.
"The word 'tolerance' doesn't do justice to the society we treasure. We tolerate traffic jams, we tolerate flight delays, we tolerate headaches. We tolerate brussel sprouts – we embrace diversity," the Labor leader said.
"The Bible does not tell us to 'tolerate' thy neighbour. Diversity is not a minor inconvenience to be endured, it's not a artifice of political correctness, it is the collective power of our nation, of all of us. We know today's immigrants and refugees are tomorrow's community leaders, business leaders, doctors, nurses and teachers. We know inclusion, openness, cohesion are universal values to build upon."
"We know multiculturalism is not a passing fashion – it is at the very heart of our national identity."
What did you think of the two leaders' speeches?