Malcolm Turnbull unleashes on Kevin Rudd after secret letters leak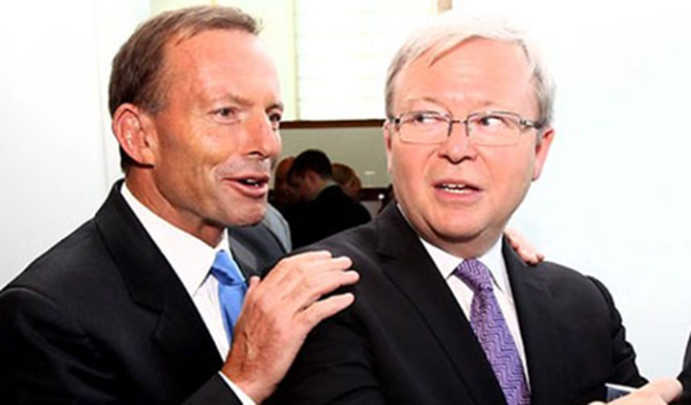 Last Friday, Mr Rudd's office leaked out three letters he had written to Malcolm Turnbull to journalists, and now, the Prime Minister is not happy. Mr Turnbull is now accusing the former PM of verballing him and plotting in advance to leak private correspondence to the media.
The letters detailed the few occasions on which Mr Turnbull was said to have privately endorsed Mr Rudd's bid between September and December last year.
But Mr Turnbull denied he ever supported Mr Rudd's tilt to lead the United Nations during a key December meeting, and refused to be drawn on Mr Rudd's central claim that he had previously expressed his support for the bid, reports SMH.
Mr Turnbull said, "I'm not going to be getting into this debating Mr Rudd … he and I have had discussions that have touched on this over a long period of time," he told ABC radio.
"They were all confidential discussions, they were all private conversations.
Ad. Article continues below.
"It says a lot about Mr Rudd that quite some time after the event he would seek to present an account of them in correspondence he would write to me with the clear intention of subsequently releasing it."
Last week, Mr Turnbull announced that the Australian government would not nominate Mr Rudd for the position of UN Secretary-General, a job the former prime minister has coveted for years, causing Mr Rudd to fume.
The leaked discussions between the two men is considered as significant because it goes to a question of Mr Turnbull's honesty and consistency. Through the correspondence he released, Mr Rudd is implying the Prime Minister either lied in their initial discussions or changed his mind without adequate explanation.
To make it worse, Mr Turnbull refuses to deny that he ever gave Mr Rudd his personal support will only fuel speculation that he was pressured into opposing the bid by his party's right-wing.
In his first public comments about the leaked letters, Mr Turnbull said it had been made clear to Mr Rudd that the matter would be determined by cabinet.
Ad. Article continues below.
The letters released by Mr Rudd's camp, which, while only showing one side, suggest that agreements had been reached to support the Rudd bid, but that this support was suddenly withdrawn on May 1, just days before the election was called.
In one letter, Mr Rudd refers to a December 23 meeting he had with Mr Turnbull. He claimed the Prime Minister once again offered his support and indicated that although the decision would have to be signed off by cabinet, this process would not change the outcome.
Mr Turnbull claims that letter "makes assertions about support being given" that were "absolutely untrue". "That meeting was held in my office with my chief of staff and it was made very clear to him that it was a matter for the cabinet," Mr Turnbull told ABC radio.
According to Mr Rudd's spokesperson, he stood by his account of the December meeting and that "the letters were released in direct response to briefing [of journalists] from the Prime Minister's office that was inaccurate".
Who can you trust in this debacle?