Malcolm Turnbull tweets his journey from Melbourne to Geelong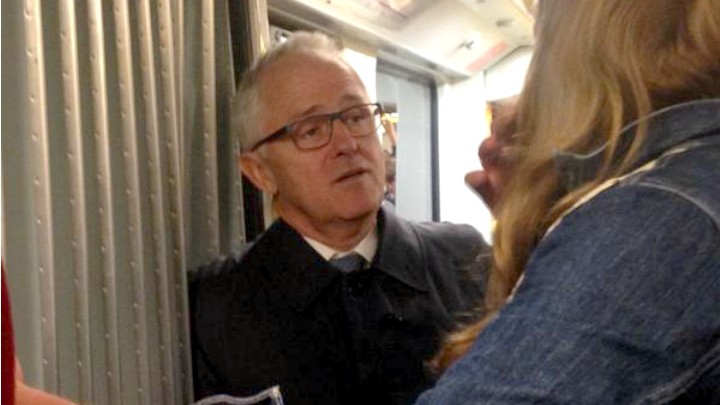 Could it be? Is this that thing that has been missing for so long from the Australian political scene? Malcolm Turnbull appears to have applied the old-fashioned art of humour to his unofficial quest to prove he should be leading the nation during a trip to Melbourne.
The Communications Minister has chosen to spend $12 on a tram and train journey to travel to Geelong for an official visit with MP Sarah Henderson.
In light of the press, the opposition and the public baying for Bronwyn Bishop's blood over exorbitant and unofficial expense claims, one can't help think Mr Turnbull's decision to post updates about his travels on Twitter was a calculated dig.
Enjoying the pleasure of the 96 tram on the way to St Kilda this evening in Melbourne the tram network of which is the largest in the world.

— Malcolm Turnbull (@TurnbullMalcolm) July 28, 2015
After 2 interesting tram trips last night now on the 109 on Collins St to Sth Cross to get the train to Geelong to visit @SHendersonMP

— Malcolm Turnbull (@TurnbullMalcolm) July 28, 2015
A conductor checked my myki to confirm I had tapped on. So flattered he thought I was fit enough to have been able to leap over the barrier

— Malcolm Turnbull (@TurnbullMalcolm) July 28, 2015
At Sth Geelong station with @SHendersonMP before going to Torquay to inspect the @NBN_Australia rollout. pic.twitter.com/PWJI7dBNAD

— Malcolm Turnbull (@TurnbullMalcolm) July 28, 2015
Some of Mr Turnbull's tweets are undoubtedly funny and show a, dare we say it, larrikin nature. But is it poor taste in light of what's happening within his own party?
The Finance Department is investigating Mrs Bishop's expenses claim relating to the chartering of a luxury helicopter to a fundraiser in Victoria in November last year. The Speaker is also facing questions over her use of taxpayer-funded expenses to attend the weddings of Liberal colleagues in 2006 and 2007.
Ad. Article continues below.
What do you think about Malcolm Turnbull's decision to tweet about his frugal travel?