Malcolm Turnbull told by psychic he'll never be PM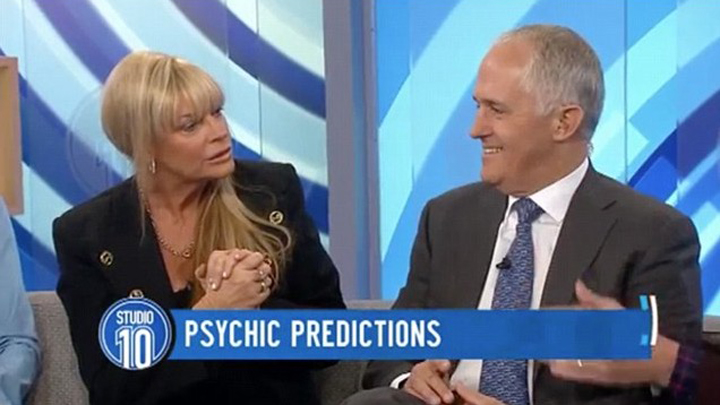 Ask anyone three months ago whether they thought Malcolm Turnbull was grooming for PM and they'd say he absolutely was, but when you ask a psychic what his real prospects are, the answer isn't so affirmative.
Mr Turnbull joined the team on Channel Ten's Studio 10 yesterday and had the unique opportunity of speaking to a psychic about what his future holds.
Not the Prime Ministership, apparently. He had admitted previously in GQ Magazine (where the headline was, 'Primed Minister') that he had planned to run for PM should Tony Abbott's spill motion have gone awry.
The Minister for Communications featured on Studio 10 on Thursday morning had his future predicted by a psychic. Sharina Star was asked whether Mr Turnbull would be the Prime Minister of Australia.
Clasping her hands, Ms Star said, "He won't be Prime Minister".
Ad. Article continues below.
"He's not going to contest the prime-ministership because he doesn't want to deep down", she said.
Sharina Star assured him he was going on to bigger and better things, saying he had "tremendous wealth coming through", including world trips and fame. Sounds great, doesn't it?
Excitedly, Ms Star the psychic told Malcolm there was an "explosion of positive energy" around him. She also saw a "Do not disturb" sign on his door on a cruise, gushing about the amount of love coming into his life. To all of this he said "whoaaw".
Mr Turnbull looked quite happy as his predictions were given saying "what can be better than that?" Not being PM, it seems.
Ad. Article continues below.
The Minister might even have TV contracts on his way, said the psychic, eerily. Would you want Turnbull on your screens permanently?
You can watch the video here.
Tell us, do you think the psychic was right? Will Malcolm Turnbull be PM?