Malcolm Turnbull is singing a slightly different tune to the PM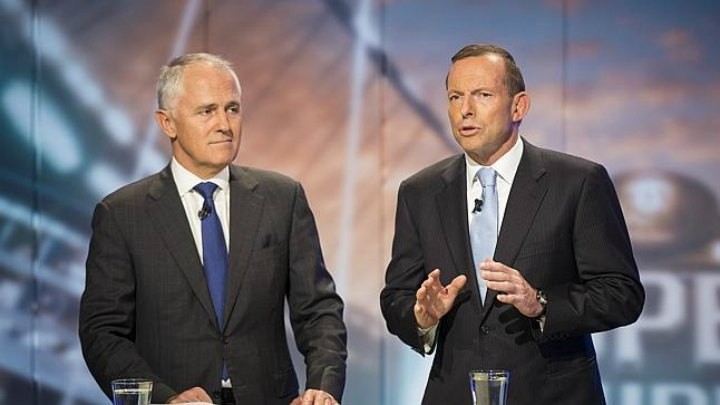 It's not shaping up to be a great day for the Prime Minister. In addition to Glenn Lazarus, aka the "brick with eyes", threatening to get him in a squirrel grip over coal seam gas, it looks like Malcolm Turnbull could be strategically positioning himself as the "rational" voice of the Liberal party.
The communications minister used markedly different language to the prime minster while talking about the threat of Islamic State extremists at a gathering last night.
"Just as it's important not to underestimate or be complacent about the national security threat from Daesh [a derogatory name for ISIS], it is equally important not to overestimate that threat," he said.
"Daesh is not Hitler's Germany, Tojo's Japan or Stalin's Russia," added Mr Turnbull.
He also pointed out that those with a common goal of defeating terrorism could have widely differing views on how to achieve this. This is in stark contrast to Mr Abbott's comments that Labor "rolling out the red carpet" to terrorists by expressing concerns about the citizenship-revoking legislation.
Ad. Article continues below.
Mr Turnbull said calling those who question the effectiveness of new national security measures as "friends of terrorists" was counterproductive.
"Denouncing those who question the effectiveness of new national security measures as friends of terrorists is as stupid as describing those who advocate them as proto-fascists," he said.
It should be noted the minister was defending the government's draft citizenship laws so he is still technically on the same page as the Prime Minister.
But while Tony Abbott has started to come across as being obsessed with terrorism, Mr Turnbull's call for rational debate on the issue shows he's not quite onside.
This comes just a day after Mr Turnbull kept silent on whether he would appear on Q&A despite the Prime Minister banning frontbenchers from appearing on the show. The Australian reports today Mr Turnbull has since said he will not appear on the show if the boycott is still in place.
Tell us, who would you prefer as leader of the Liberal party: Malcolm Turnbull or Tony Abbott?