Malcolm Turnbull butts heads with Leigh Sales in heated chat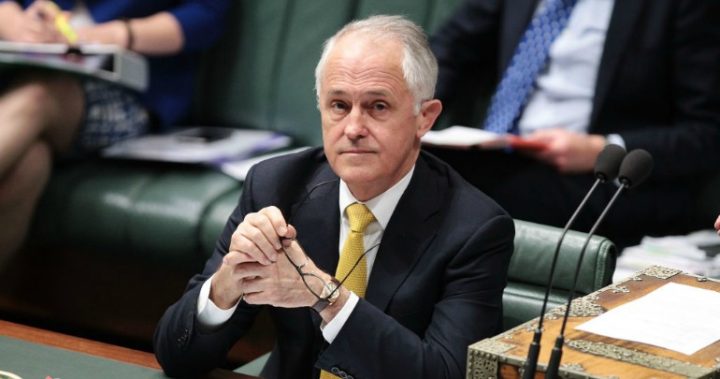 Malcolm Tunbull may be rejoicing following the same-sex marriage vote, describing it as "a great moment in history".
But it didn't stop him descending into another heated exchange with ABC's Leigh Sales – and this time, they even discussed their sleeping habits.
The Prime Minister was interviewed by the 7.30 host about everything from the vote – which he described as "a very big hug" – to the ABC's coverage of the controversial citizenship saga – describing that as a "conspicuous failure".
However, the chat later went off at somewhat of a tangent, according to the Sydney Morning Herald, as Sales asked the PM: "Prime Minister, what runs through your head in the middle of the night when you wake up and you can't sleep?"
Denying he's affected by insomnia, he replied: "Ah, you know what? I sleep right through the night."
Ad. Article continues below.
Read more: 'Can we please just stop the hysteria over same-sex marriage?'
Swiftly turning the question around, he then asked Sales the same question, and she replied: "No. I wake up often in the night, which is why I assume everybody does and I'm sure you don't sleep through every night."
He shot back: "The key to being a happy and effective Prime Minister is to get a good night's sleep and plenty of exercise."
Meanwhile, the pair discussed the recent same-sex marriage vote, as a proud Mr Turnbull explained: "I am so proud that this has occurred while I'm Prime Minister, while the Liberal and National parties are in government."
My guest tonight is the Prime Minister @TurnbullMalcolm #abc730

— Leigh Sales (@leighsales) December 6, 2017
Ad. Article continues below.
While he said he refused to do the "usual tit-for-tat" when asked about Labor's contribution, he couldn't resist one slight dig.
"Labor certainly supported it and that's good," he said. "They had six years in office and did nothing about it and that's not so good."
Elsewhere in the heated chat, Sales brought up the recent controversial citizenship saga, asking why every MP "under a cloud" can't just be referred to High Court.
Read more: Over-60 voters turning on Malcolm Turnbull
Ad. Article continues below.
It prompted Mr Turnbull to slam the ABC for their coverage, describing it as a "conspicuous failure", before adding that the Labor Party had "produced no evidence — not even an argument — that any member of the Coalition sitting in the House is ineligible".
While he insisted they had dealt with the issue with "full transparency", Sales continued to stoke the fire.
"When voters look at the Coalition, they see disunity, they see you consistently behind in the polls, they see some members of your team sniping at you. Why?" she asked.
The Prime Minister then told her to ask "the snipers why they snipe".
And while Sales continued to quiz him, Mr Turnbull refused to back down and defended his own through to the end of the chat.
Ad. Article continues below.
"It's a very, very long list of achievements we have got done despite our many failings, which you remind me of from time to time," he quipped.
Australian parliament members cheered and hugged as the after the bill was passed on Thursday, before singing 'I Am Australian'.
What do you think to the Prime Minister's sleeping habits? Are you happy with how his Government handled the citizenship saga? Are you happy about the same-sex marriage vote?
Important information: The information provided on this website is of a general nature and for information purposes only. It does not take into account your objectives, financial situation or needs. It is not financial product advice and must not be relied upon as such. Before making any financial decision you should determine whether the information is appropriate in terms of your particular circumstances and seek advice from an independent licensed financial services professional.