Malcolm Turnbull and Alan Jones clash in fiery interview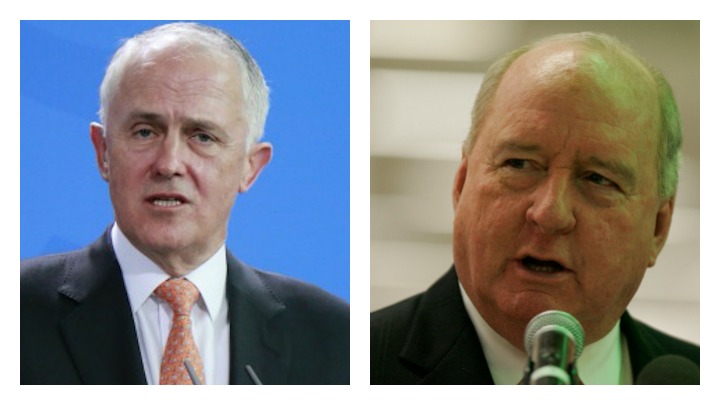 Prime Minister Malcolm Turnbull and radio shock jock Alan Jones have gone head to head once more in an interview this morning where tempers flared and patience ran short.
The pair discussed a number of topics, including superannuation and petrol prices, but it was when they started discussing Chinese land ownership in Australia and possible changes to the racial discrimination act that things really heated up.
Jones probed Mr Turnbull on whether or not he would reign in Chinese buyers and certainly didn't like the answer he received.
"Look, you get all sorts of voices coming out of China, out of their media, but I can assure you, having dealt with Chinese governments over a long period of time, they absolutely understand that it is entirely our right to determine who invests here," Mr Turnbull said.
He said Chinese buyers were doing a lot to help Australia by pumping money into the country.
Ad. Article continues below.
"There was a very big piece in The Australian a few weeks ago which set out the development that's going on there — the jobs," he said.
"It's like a lot of things in government; you've got to get the balance right."
Clearly frustrated Jones asked why Aussies weren't getting their fair share of the profit Chinese investors are earning from our land.
"Alan, we do have a share of it," Mr Turnbull fired back.
"Particularly in regional Australia, which has been hard hit by the decline in the mining construction boom, one of the bright lights has been the growth in exports to China and that is in large measure being seen in agriculture and food products and whether it is lobsters or whether it is all sorts of jams and wines and drinks and you're seeing that."
Ad. Article continues below.
Jones quickly changed the topic to the racial description act, asking if the government would be making changes to 18C of the Racial Discrimination Act in light of three Queensland students who have been accused of racism under the act.
"The answer is no, not at this stage because we have higher and more urgent budget repair priorities," Mr Turnbull said.
"So these poor buggers are stuck there, and they've got to fund it and they don't have the dough to do it. We'll talk again soon and I'm grateful for your time," said Jones quickly wrapping up the interview.
The words had barely left his mouth when Mr Turnbull is heard uttering "thanks" before slamming is receiver down.
Who do you think was in the right here? Do you agree more with Malcolm Turnbull or Alan Jones?