Maggie Smith to reprise her much loved role on the big screen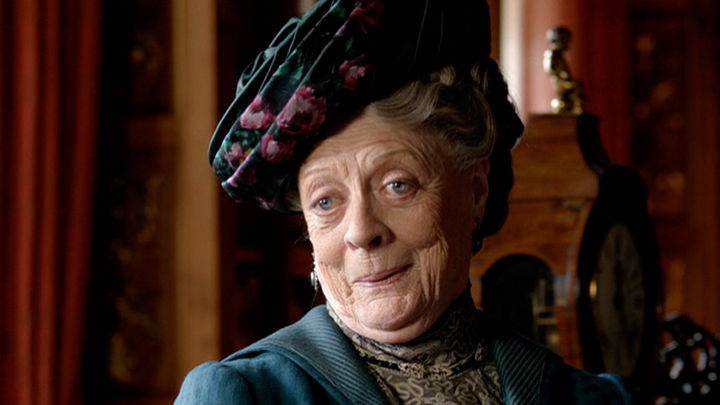 Hold onto your hats, Dame Maggie Smith is heading to the big screen – and she's reprising her role as Violet Crawley from Downton Abbey!
That's right, Downtown Abbey is being made into a movie.
It's only been a few months since the final episode aired, and the news of a big screen adaptation is a boost for fans already missing the show.
Co-stars have praised Maggie Smith as they spoke about her reprising her role at the Dowager Countess of Grantham with the Daily Mail.
Michael Fox, who plays Andy Parker in the series, said Maggie was at 'the pinnacle' of her career.
Ad. Article continues below.
"She is one of those actors you look at, and say, "How on earth does do they do it?"" he said.
"Everyone says Maggie gets the best lines – they are funny on the page, but she makes them exceptional – she is really special.
"She elevates it to something else, because she is such a legend and a national treasure."
While rumours had been abound for a while that Maggie would appear in the movie, this is the first actual confirmation.
Remember when she appeared on The Graham Norton Show last year?
Ad. Article continues below.
Well, she told Graham that she didn't think it would be possible or logical for her character to return.
"By the time we finished, she must have been about 110. It couldn't go on and on, it just didn't make sense," she said.
So what can we expect from the movie?
Well, it's all being kept under wraps.
The show's creator Julian Fellowes said cameras would likely start rolling next year, but declined to reveal any plot twists or release dates.
Ad. Article continues below.
"I think it will be fun to get everyone together," he said
"and move it to a larger scale because you have got more money to spend."
Maggie Smith and her Downtown Abbey co-stars are currently at the Emmy Awards, where the 81-year-old actress has been nominated for Best Supporting Actress in a Drama Series.
Are you excited about this news? Is this a movie you'd love to go and see?