Maggie Smith shows Hollywood who is boss after Emmy win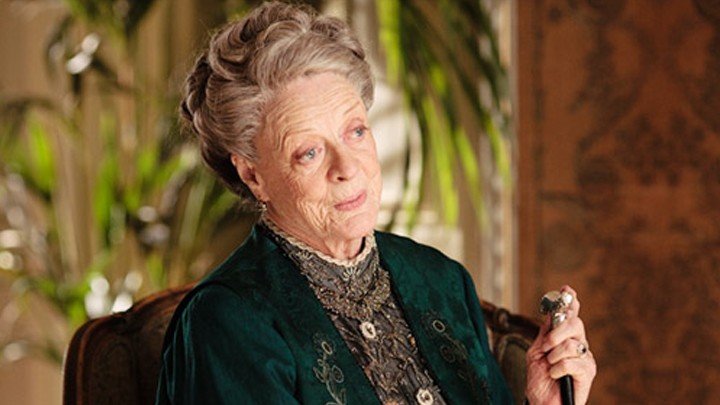 Dame Maggie Smith may not have been at the Emmys to accept her award, but that hasn't stopped her from stealing the show.
If you missed the Emmys, you may have missed host Jimmy Kimmel's joke about Maggie not deserving her award because she wasn't there.
When Maggie's name was announced as the Outstanding Supporting Actress in a Drama Series, Kimmel raced to the stage and took the statue.
"Maggie, if you want this, it will be in lost and found," he joked.
Ad. Article continues below.
Earlier in the show's opening, Kimmel threatened to take away all of Maggie's awards if she didn't personally come to the awards and collect them.
He also challenged her to "get (her) Dowager Count-ass over here."
You might be wondering how Maggie took the joke?
Well, true to form, she took the joke with all the humour, grace and clever wit you'd expect.
The 81-year-old took to social media to respond.
Ad. Article continues below.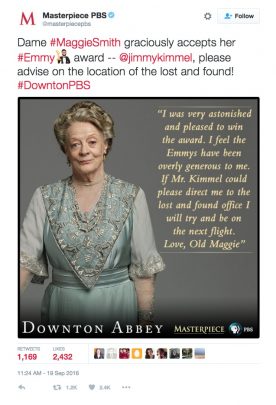 She tweeted through the Masterpiece PBS Twitter account.
"I was very astonished and pleased to win the award," she wrote.
"I feel the Emmys have been overly gracious to me. If Mr. Kimmel could please direct me to the lost and found office I will try and be on the next flight."
The talented actress signed off the tweet with "Love, Old Maggie."
It just goes to show that although Maggie might not be playing Violet Crawley until the Downtown Abbey movie starts filming next year, she can still channel her character's wit.
Read more: Maggie Smith to reprise her much loved role on the big screen