Magda Szubanski slams Jacquie Lambie on Q and A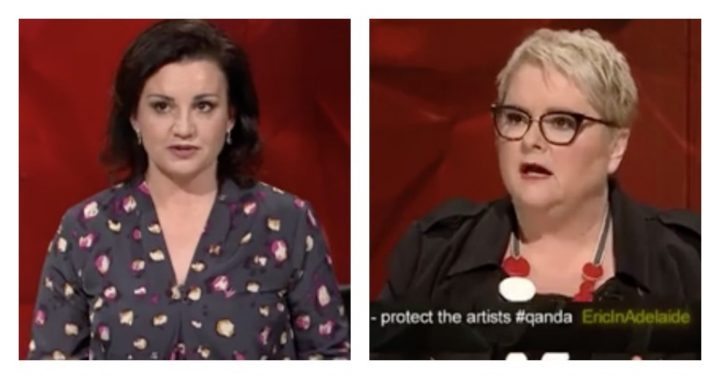 Things certainly got heated on Q and A last night when panellist Magda Szubanski clashed with Jacquie Lambie and Deputy Nationals leader Fiona Nash.
The three women were joined on the panel by singer Jimmy Barnes and things turned ugly when the subject of gay marriage and a plebiscite arised.
Magda, who is gay, does not want a plebiscite and said she can't understand why politicians think it's ok to deny her of the right to get married.
She took aim at Jacquie saying she knew she had an "unconventional" family and would support her rights no matter what.
"I want to address you on a more personal level," Szubanski said to Lambie.
Ad. Article continues below.
"You have an unconventional family yourself, Jacqui. You're a single mother. I would fully support you in that and always have and it's been because people have pushed through humane reforms that you know, however many decades ago, you would have been treated terribly.
"I think that is so wrong. That is what is happening to me and my community now."
But Lambie refused to engage with her, saying there were still plenty of single mums who were being treated wrongly.
Magda also clashed with Fiona when she asked her if she thought they were equals.
Szubanski: "One simple question: Do you think I'm equal to you?"
Ad. Article continues below.
Nash answered: "Of course I do."
Szubanski: "If I was your daughter, and I'm being gay, would you think that I should have the right to be married?"
Nash: "I've been asked this question a lot over the last 12 months and my response was that my view is still the traditional view of marriage. I love my children regardless of what they ever brought home for me would make absolutely no difference at all. I completely respect your view and your desire to see that as equality …"
Szubanski: "But you won't give me my rights. Thanks for nothing."
Ad. Article continues below.
The exchange had many members of the audience looking uncomfortable, with opinions over the issue divided down the middle.
For his part, Jimmy said he doesn't think there should be a plebiscite and that the government should just go ahead and make gay marraige legal.
Who do you side with in this debate? Do you support gay marriage?