Magazines rip into Trump with powerful cover pages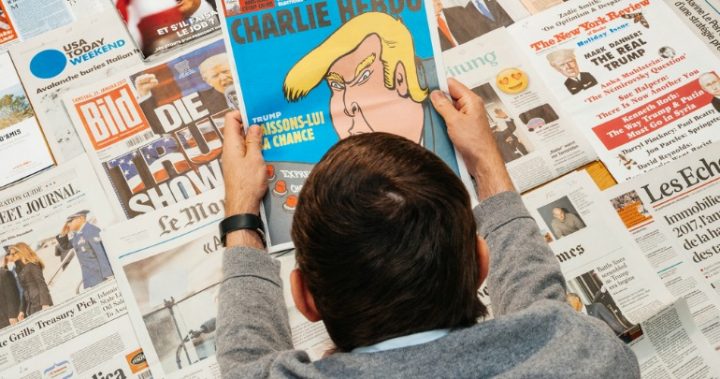 It's no secret it's been a rocky start to Donald Trump's presidency and now a number of fed up publications are venting their frustrations the best way they know how: on the front page.
Whether you love him or hate him, in the first three weeks of Trump's presidency have been filled with ups and downs, depending on which side of the fence you sit.
While the media is supposed to remain impartial, a number of high-profile publications have made it clear they will not be sitting by quietly when Trump does something they don't agree with.
Overnight, a number of the world's biggest magazines released their new front covers taking aim at Trump with some rather pointed cartoons and images.
The New Yorker cover shows the top of the Statue of Liberty with smoke wafting into the air to signify the shining light of America had been put out.
Ad. Article continues below.
Meanwhile, German magazine Der Spiegel created and extremely graphic cartoon of Trump holding up the severed head of Lady Liberty accompanied by the words "America First".
Ad. Article continues below.
Next came distinguished business publication Bloomberg BusinessWeek, which poked fun at Trump's seemingly rushed and impulsive executive orders.
Ad. Article continues below.
While they're certainly powerful statements, the whole thing begs the question: isn't the media supposed to remain impartial?
There is a general view that most major news outlets were too soft on Trump while he was campaigning and treated him as a joke instead of holding him accountable.
Now, a number of these high-profile publications seem to be trying to make up for it and are routinely tearing him apart over his controversial policies.
While it could be considered as journalists doing their due diligence and holding a politician accountable to his actions, there is also the argument that the media is not supposed to take sides.
However, when it comes to the greater good, perhaps we do need our media to step up and voice the concerns of others. 
What do you think? Do you support these magazine covers? Or do you think the media is showing bias?