Madonna has some choice words for Donald Trump at Women's March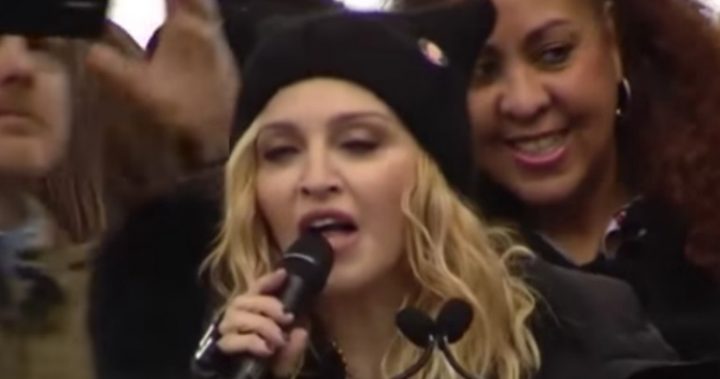 As you've probably read or heard, hundreds of thousands of women across the world are marching in protest against Donald Trump's presidency.
Among them were dozens of celebrities – from Cate Blanchett to Cher and Michael Moore.
But it's Madonna that's raised eyebrows with a profanity filled speech aimed at Trump.
Speaking at a march in Washington DC that attracted half-a-million women, Madonna dropped a few f-bombs.
"Welcome to the revolution of love, to the rebellion, to our refusal as women to accept this new age of tyranny, where not just women are in danger but all marginalized people, where being uniquely different right now might truly be considered a crime," she said.
Ad. Article continues below.
"It took this horrific moment of darkness to wake us the f*** up."
She also told Trump to "suck a d***".
And it got even worse.
"To our detractors that insist that this march will never add up to anything, f*** you," she said.
"Yes I have thought an awful lot about blowing up the White House."
Ad. Article continues below.
Her comments appeared uncensored on several news outlets, with CNN actually apologising.
Watch the video below and see for yourself:
What do you think of Madonna's outburst? Did she take it too far?