Madonna could be in trouble over her 'blowing up the White House' comment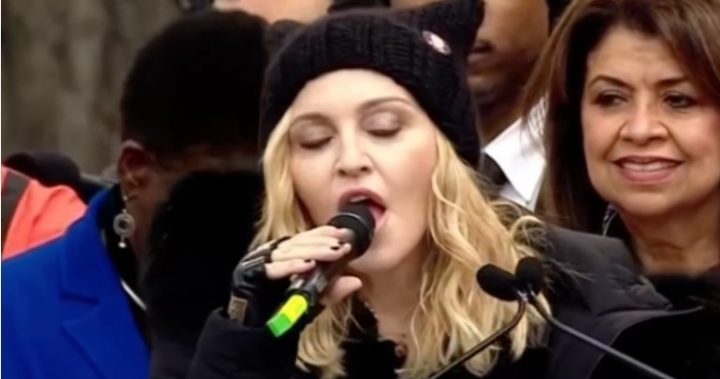 Madonna is no stranger to controversy, but it looks like she could be in a little more trouble than usual over some controversial remarks she made at a Women's March on the weekend.
You might remember reading about Madonna saying she thought "an awful lot about blowing up the White House".
Well, it looks like she might no be getting away with saying that!
The 58-year-old made the comment at the Women's March in Washington on Saturday, joining hundreds of thousands of women in protest again Donald Trump.
She also told Trump to "suck a d***".
Ad. Article continues below.
The comments might have earned her applause and cheers at the march, but they've disgusted a lot of people here on Starts at 60 and they've drawn the attention of US authorities.
A long-time advisor to Donald Trump, Newt Gingrich told Fox News program Fox & Friends that he believed Madonna "ought to be arrested".
"What you have is an emerging left-wing fascism. She's part of it, and I think we have to prepare to protect ourselves," he said.
"The truth is, she ought to be arrested." 
.@newtgingrich: Madonna ought to be arrested for saying she thought about blowing up the White House pic.twitter.com/5LCz4y7o0O

— FOX & friends (@foxandfriends) January 23, 2017
Ad. Article continues below.
Meanwhile, a right-wing blog has published unverified claims that Madonna is "being investigated by the Secret Service".
The Gateway Pundit describes Madonna as "an ageing pop star"  and claims a Secret Service spokesman told them "an investigation would be opened but that the decision to prosecute rests with the U.S. Attorney's office".
While there's no word official word on whether an investigation will take place, many people believe Madonna should be investigated over the comments.
Ad. Article continues below.
But she's hit back, claiming her comments were taken "wildly out of context".
"I want to clarify some very important things. I am not a violent person," she wrote on Instagram.
"I do not promote violence and it's important people hear and understand my speech in it's entirety rather than one phrase taken wildly out content.
"I spoke in metaphor and I shared two ways of looking at things — one was to be hopeful, and one was to feel anger and outrage, which I have personally felt. However, I know that acting out of anger doesn't solve anything.
Ad. Article continues below.
What do you think? Should Madonna be investigated over her comments? Or does she have a right to free speech?