Luke Beveridge shows what being in a team is all about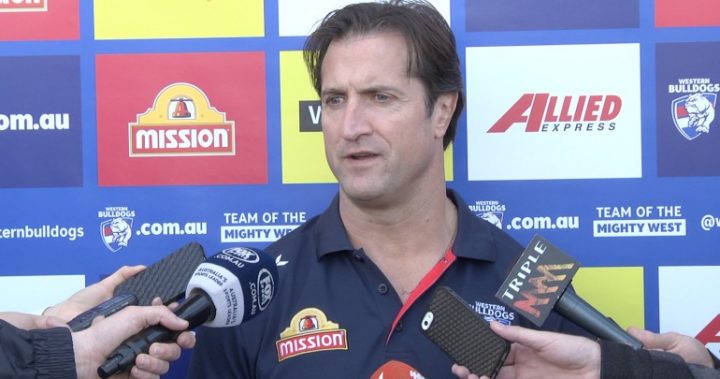 When you truly play as a team, it's all for one, one for all. On a feel-good day for the Western Bulldogs, who'd won the AFL Grand Final last night, there was a moment that outshone every other – and was the true embodiment of what team spirit really was.
Addressing the crowd after the win, the team's coach, Luke Beveridge, noted the bravery and support of the club's injured skipper Bob Murphy, and then he invited him on the stage.
In what is being touted to be the ultimate show of respect, he said, "This is yours mate, you deserve it more than anyone," as he took off his premiership medal and hung it around Bob's neck.
The pair then shared a tearful embrace on the stage before Bob helped stand-in skipper Easton Wood lift the Premiership Cup.
The moment brought the house down and left an emotional Murphy struggling for words afterwards.
Ad. Article continues below.
"It's a hard thing to put into words because it's very special," he said. "He's an incredibly special human being. I love him for it. In some ways, I think, it's not the same as the other boys' medals, it's not the same as the 22, but for me, it means just as much.
"This is my footy club. I couldn't be prouder. I couldn't be happier. I'm just a very, very happy man.
"I love these boys so much. They really get it. It's a game of head and heart. They worked their way through the head and they are all heart. I'm very proud to stand among them."
Coach Beveridge also thanked the fans he said had made his players feel "like the Beatles'' in recent days.
Ad. Article continues below.
"We've ridden on their wings. The players couldn't have done any more. They're totally spent.''
Teammate Jake Stringer said what every member of the Bulldogs family was thinking.
"Even though he didn't play he's very much a part of this."
Tributes came pouring in for the 295-game veteran and the coach throughout social media.
Luke Beveridge, you epitomise what sport is about. You are teacher, a team man, a champion.

Well done, sir. Well done. #AFLGF

— Shane McInnes (@shanemcinnes) October 1, 2016
Ad. Article continues below.
.@Luke__Beveridge giving his medal to @BobMurphy02 was the final piece in one of the most beautiful jigsaw puzzles I have ever seen #AFLGF

— Martin Flanagan (@Martin_Flanagan) October 1, 2016
Luke Beveridge has just shown the greatest display of humanity @AFL has ever seen #Bob Murphy #legend @westernbulldogs

— Don (@donelg17) October 1, 2016
Ad. Article continues below.
Is there a better man alive than Luke Beveridge? #allclass

— James Mathison (@jamesmathison) October 1, 2016
lovely moment with Bob Murphy. I'm a blubbering mess and not because my team lost! #AFLGF

— Jen Browning (@jen_browning) October 1, 2016
They wouldn't be there without you @BobMurphy02 The heart and soul of that club. Keep your head high mate. #AFLGiantsDogs #AFLFinals

— Ryan Fitzgerald (@FitzySA) September 24, 2016
Were you watching the game? What did you think about this great moment?