Love the open road? Here's everything you wanted to know about becoming a grey nomad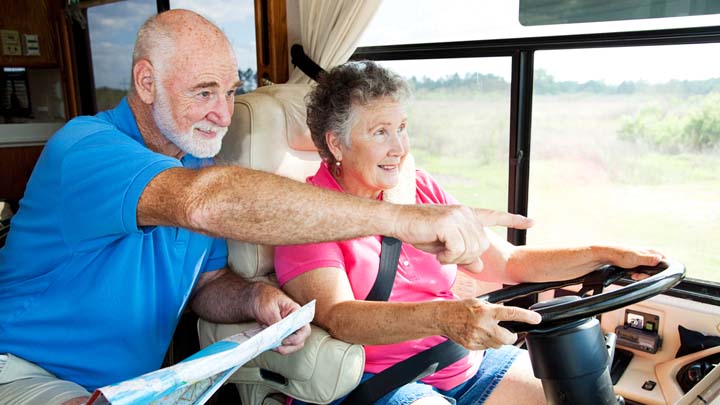 No doubt by now you've seen or heard of friends and family who have gone on amazing nomad journeys, and maybe you're wishing you could join them? We hear a lot from our readers that they want to be a grey nomad but don't know where to start.
Firstly, there's no right answer on where to start – but there are a number of handy things you should consider before getting on the open road.
Here's our top tips for any first time grey nomad.
1. Consider where you'll stay on the road
Most grey nomads shrug it off and think "we'll sleep in the caravan!" but you need to do it legally otherwise you could be slapped with a fine. Staying in caravan parks is great, however it can add up after a while. Luckily, national parks and rest areas are typically free, and have toilets and showers in some instances.
Ad. Article continues below.
National parks
For more information about access, availability, facilities and attractions for the national parks in tourist information centres, you can go on the relevant national park office's website or call them. Here are the National Park websites for each state:
ACT: click here
NSW: click here
NT: click here
QLD: click here
SA: click here
TAS: click here
VIC: click here
WA: click here
Rest areas
Each state has its own policy about overnight stays at rest areas but most have free maps showing where the rest areas are and what facilities are available.
Ad. Article continues below.
VIC: click here
NSW: click here
QLD: click here
SA: click here
TAS: click here
NT: click here
WA: click here
2. Keep connected
Becoming a grey nomad can be one of the most freeing experiences of your life and thanks to modern technology, it's no longer the isolating and (sometimes) lonely activity that it once was. Using devices like smart phones, iPads or tablets, and laptop computers, keeping in touch with family and friends on the road is a button-press away.
Here's some options:
Blogging – keeping an online blog to post stories and photos of your trip
Viber and WhatsApp – free calls, text, and video messaging
Instagram – share your videos and pictures with your friends and family in real time!
Ad. Article continues below.
Other gadgets to take with you
3. Be sure to see your doctor
Even if you're feeling great right now, things can change, and you never know what could happen on the road. Even though your stresses may fall away once you hit the road, you should still make sure you're in tip top shape if you'll be away from medical care.
Checklist:
A full check up with your doctor and assessment of any medications. Ask for advance prescriptions if possible, or organise to have script faxed to a destination
Get your eyes checked.
A full examination and clean of your teeth and save the toothache later!
Purchase a fully equipped first aid kit.
Get travel insurance and make sure an ambulance call-out is included in the price.
Ad. Article continues below.
4. Redirecting your bills and letters
It'd be nice to just never have to deal with bills and letters but even when you're on the road, they will still come!
Checklist:
Change your address to that of a trusted relative if you will be selling your home
Give a trusted friend or relative access to your mailbox to collect mail if you're not moving
Organise a re-direct on your mail to a professional mail forwarding agency. They can send the letters to any post office near to where you are in Australia.
Organise direct debits from your accounts
Set up internet banking
5. Finding the perfect caravan
Ad. Article continues below.
Before anyone sets off on their dream nomad adventure, they need to have one thing… the right vehicle! So before you make any decisions about your nomad caravan, ask yourself these questions, write down the answers, and you have your baseline criteria for finding the perfect rig!
Where do you want to go?
In Australia there in places that are quite hard to get to. This means that if you want to explore places off the beaten track, you'll need a caravan that can get there. Some are two-wheel drives and others are four-wheel drives.
What car are you going to use to tow the caravan?
If you have a car already and you're definitely not considering another one, the load capacity for towing will determine the upper weight and size limit of the caravan you can get. A four-wheel drive is generally the most appropriate vehicle for towing caravans however the size and towing capacity varies from model to model so make sure you know the capacity for your car before purchasing a caravan.
Ad. Article continues below.
What are you going to take with you?
It sounds like something you don't want to think about until you're ready to leave, but this is incredibly important in choosing the right caravan. If you're going to be enjoying adventure activities like kayaking, cycling, fishing or something like skiing, you will need a place to store all of your equipment.
Where will you store it?
There are times when you'll want to stay put and wherever home base is, be it at an caravan park, in your garage, outside the home or somewhere else, you'll need to make sure it can fit. Measure the potential storage spaces and use these as limits to how big it will be. It is also important to consider the locations you will stop at on your journey – some holiday parks may ask for more money for bigger vehicles.
6. Some advice from people who've done it
Ad. Article continues below.
Janne and Geoff Hardy set out on their grey nomad journey and it's one of the best things they ever did. They shared a few words of wisdom for us in this blog post.
"One of the most important things to realise is that you can't just drive and drive every day. Firstly, few people could afford the cost of fuel. Secondly, you won't see much if you are focused on where you are going rather than where you are. Thirdly, you'll miss the two most important reasons for being out here: the people and the communities you find along the way… because you'll just shoot through", they said.
Tell us, will you be setting off on a grey nomad adventure soon? Where will you go?