Lleyton Hewitt jumps to Nick Kyrgios' defence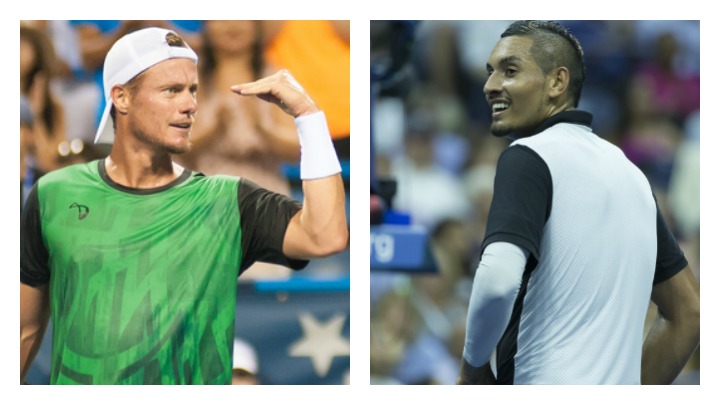 He's known for his attitude, chucking tantrums and quitting games when the going gets tough, but Lleyton Hewitt says it's "unfair" to criticise Nick Kyrgios over his latest incident.
Former tennis great John McEnroe made a splash when he openly slammed Kyrgios while commentating his US Open match over the weekend.
"Nick Kyrgios, if you don't want to be a professional tennis player, do something else," the seven-time Grand Slam champion told viewers before Kyrgios withdrew from the match. "He's hurt because he's not training enough."
While many agree with McEnroe, Hewitt has jumped to Kyrgios' defence saying the young player did his best considering he was injured.
"It's unfair," Hewitt said.
Ad. Article continues below.
"He was obviously playing with an injury and I know before the first round that he did have a small hip problem that he actually did two days before the tournament in a practice session.
"It was obviously causing him some discomfort in the first couple of matches. He called the trainer out and he was feeling it.
"He probably would have pulled out sooner in that match last night apart from (the fact) he was on centre court, a big match on Arthur Ashe Stadium and he was kind of the name player in that match as well.
"For him to get criticised like that, he would be pretty frustrated."
He went on to say that as captain of Davis Cup team he will pick Kyrgios as part of Australia's four-man team on Tuesday saying he has full confidence in the young player.
Ad. Article continues below.
So was Nick unfairly judged by McEnroe?
For his part, Kyrgios took to his Twitter account after withdrawing saying he was disappointed with the result.
"This one hurts man," he posted on Twitter as he struggled to digest his first defeat in 21 matches against an unseeded player at a grand slam.
"My sights were set on some great things this week … Not the way I wanted to end the last grand slam of the year. F**king sucks. #liveandlearn. Its only a failure if you don't learn the lesson."
Do you think John McEnroe judged too soon? Or is he on the money?