Little girl hand-delivers message of hope to the Pope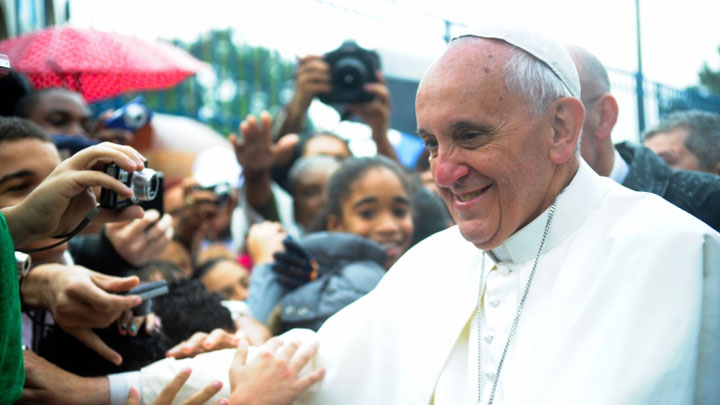 Don't you just love the Pope? Regardless of your religious views, there's something heart-warming about a celebrity who isn't afraid to break with protocol and do something "real" and Pope Francis has done that yet again, touching hearts during a visit to Washington in the US.
Sophie Cruz, the five-year-old daughter of illegal immigrants, was one of thousands of people who lined Constitution Avenue to see the Pope go past in the open-air popemobile. Sophie was a girl on a mission – to deliver a letter to the pontiff pleading for him to help her family.
The determined young girl managed to squeeze through police barricades. She was stopped by US Secret Service officers, but before they could evict her to the other side of the barrier the Pope spotted her. Instead of ignoring her, he gestured for her to come over to her and he then blessed her.
Ad. Article continues below.
Sophie handled herself with aplomb, and gave the pontiff a letter pleading with him to do what he could to persuade the authorities to let her family stay in the US, and also help other illegal immigrants. She decided to approach the Pope because he is known to be sympathetic to migrants.
Here is what her letter said:
Pope Francis, I want to tell you that my heart is sad and I would like to ask you to speak with the president and the congress in legalizing my parents because every day I am scared that one day they will take them away from me.
I believe I have the right to live with my parents. I have the right to be happy. My dad works very hard in a factory galvanizing pieces of metal.
All immigrants just like my dad need this country. They deserve to live with dignity. They deserve to live with respect.
Ad. Article continues below.
They deserve an immigration reform, because it benefits my country and because they have been working hard harvesting oranges watermelons, carrots, onions, spinach and other vegetables.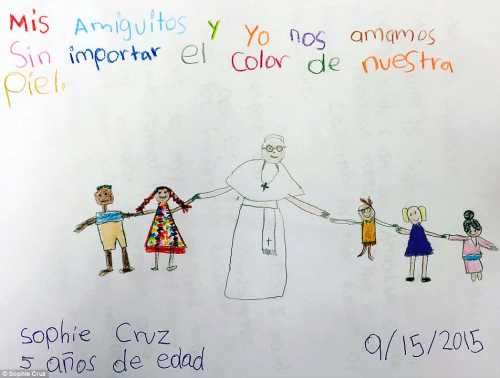 She also handed the 78-year-old pontiff a bright-yellow t-shirt with a message on it: "Pope: rescue DAPA, so the legalization would be your blessing".
Sophie's family were delighted with the papal blessing and their young daughter's brave actions.
Is this the best pope we've ever had? Tell us what you think.