Lisa Wilkinson: "We officially hate you."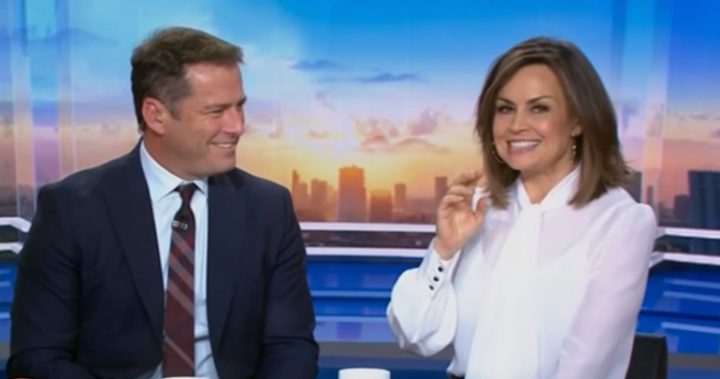 Welcome back to Today, Karl.  For a welcome back, we have a great statement about the double standards that face women on television.
There were a lot of people happy to see Karl Stefanovic back on their televisions this morning for the first time in 2017, but what everyone is talking about is the thinly veiled stance Lisa Wilkinson took on the fashion double standard. 
Crossing to entertainment reporter Richard Wilkins who is in Los Angeles hosting the G'Day LA gala, Lisa pointed out that the clothes worn by men at these high fashion events are very similar.
Lisa said to Richard, "You're now telling us that you can actually wear, as a bloke, the same outfit today that you wore yesterday to a ceremony".  Before jokingly adding, "We officially hate you."  She then brought up the point that men could literally wear the same thing to every event and never be questioned while a fashion faux pas would be thrown on a woman for doing the same.
Richard jokingly fired back that he and Karl talk about what they are going to wear all the time.  Richard said, "We say, bro, what suit do you reckon you might wear?".  Karl replied, "Let's go with the black suit, Dickie. What colour shirt do you think we should wear?"
Ad. Article continues below.
Continuing the jokes, Richard said "White?" Karl asked "And what about tie wise?" to which a laughing Richard responded, "I reckon let's break out loose this year and go with a black tie."
Getting ready is always a struggle for @karlstefanovic and @RichardWilkins. 😂 #9Today pic.twitter.com/ouPOb0j7oT

— The Today Show (@TheTodayShow) January 29, 2017
All involved had a good laugh about it, but the point raised by Lisa is a strong and valid one.  Maybe this article from satire site The Onion about how all Golden Globes attendees wear the same jumpsuit so we can focus on the actual work should be a reality.
Do you think that there needs to be an end to the double standard set on fashion?