Lisa Wilkinson rips into guest over issue close to her heart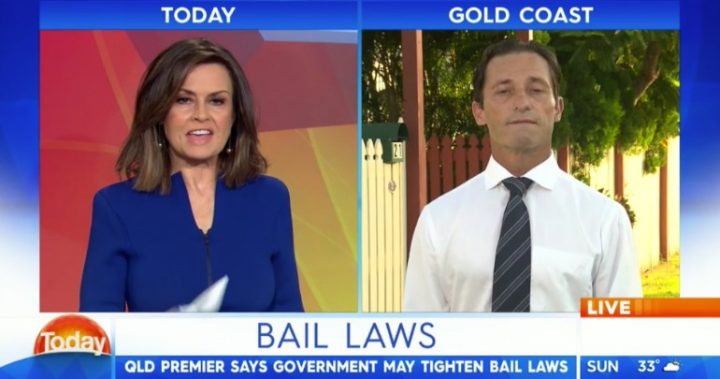 Lisa Wilkinson is often regarded as the calming presence on the Today show, but she didn't hold back this morning when talking to the lawyer responsible for freeing wife killer David Bradford.
Lisa made it clear that she is fed up with bail laws around the country that repeatedly see violent men, and women, released before reoffending again.
After everything that has happened lately, can you really blame her?
Bradford had been released on bail at the Gold Coast earlier this month after being charged with violent acts against his wife.
Just weeks later he stormed into their home, killing her before taking his own life. The couple's four children were home at the time and were forced to flee to neighbours for help.
Ad. Article continues below.
Lisa was interviewing Bradford's lawyer Mark Donnelly and was visibly annoyed when he said he thought bail laws were fine right now.
"I thought the decision to grant bail was appropriate in the circumstances, Mr Bradford didn't have any criminal history, this was a single incident," Donnelly said.
"In relation to bail I think it was actually the right thing to do, he should have been given bail sooner than spending 44 days in custody."
A surprised looking Lisa then asked: "But if that's the case why do think police felt very strongly that he shouldn't be allowed out on bail?
"Many of those surrounding the case felt that Teresa was in grave danger of being murdered, and one of her friends, Carina Mason, said as soon as Teresa found out her husband had been murdered she 'lived in fear of her life'?"
Ad. Article continues below.
Mr Donnelly responded: "Police take statements from witnesses, Mrs Bradford was the complainant, and charges were laid, so based on that police believed her.
"But my client is the accused, so he has the presumption of innocence until proven guilty."
Wilkinson added: "So you're happy with the situation as it stands, but the situation as it stands means a woman is dead and four children are without their mother."
There has been plenty of talk lately about bail laws with many saying we need to change the system before more lives are lost.
How do you feel about this? Do you agree with Lisa? Should we change bail laws?