Lisa Wilkinson left blushing after Shane Warne appears on Today show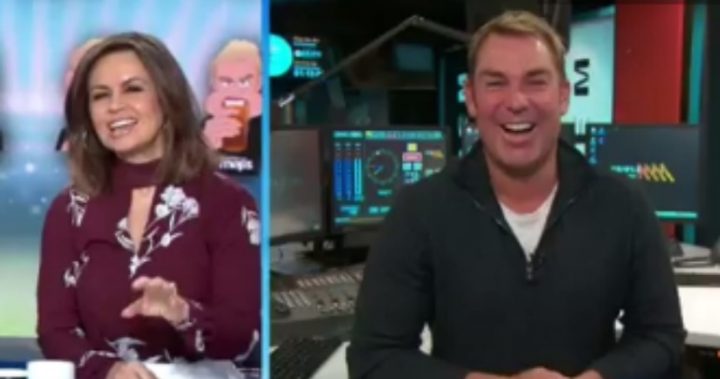 Remember when Shane Warne was threatening to sue Channel Nine over those famous 'creepy uncle' comments on the Today show?
Well, two months later he's appeared on the show to show off his latest project a set of personalised Shane Warne emojis.
Read more: Shane Warne threatens to sue Channel Nine
If you're not sure what an emoji is, it's one of those little cartoon faces you use on your phone and computer to display an emotion.
But the conversation soon took a turn away from the emojis after Lisa Wilkinson pointed out one of the emojis which displays a cartoon Shane Warne in his jocks.
Ad. Article continues below.
Wilkinson asked Warney if he was in charge of the drawings.
"I can't help noticing you may have pumped up the size of your calves. Look at them!" she said.
Warney responded by boasting about the biceps on the emoji.
"I'm ripped, aren't I? Absolutely shredded and ripped," he said.
"I could probably get my gear off for you but it might not be the place to do it, Lisa, right now."
Ad. Article continues below.
The comments lift Lisa giggling and blushing, make jokes about having "a hot flush".
Karl Stefanovic made light of the situation, fanning her down with one of the emojis on a paddle.
We can't wait to check out @ShaneWarne's personalized emoji's! What a legend! #9Today https://t.co/QxV2o2278i

— The Today Show (@TheTodayShow) December 1, 2016
Ad. Article continues below.
Warney is known for his larrikin behaviour, often making fun of himself.
"In life we take ourselves way too seriously… my life is about fun," he told the Today show hosts.
"And sure there's a serious side but this is about fun."
What do you think about Warney's emojis? Do you think they're funny?