Lisa Wilkinson and Sam Armytage have public spat on social media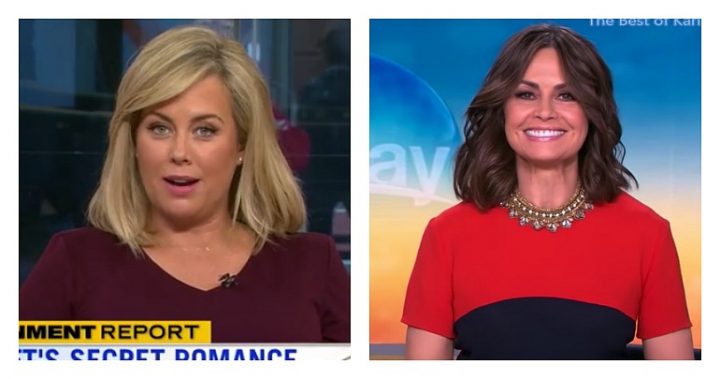 Ever since Channel 9 announced its breakfast show was number one in the country earlier this week the tension has been high between the Today show and Sunrise.
Almost immediately after Nine made the announcement, Seven came out saying those numbers were wrong as they didn't include regional areas. The issue escalated so fast that Seven took Nine to court over the issue, which was quickly settled this morning.
Nine agreed to drop its ads claiming it was the number one show in the country, but with the show still claiming the top spot in metro cities they're still celebrating big time.
Although it seems like neither side has really one the battle yet, both Lisa Wilkinson and Sam Armytage took to social media to claim victory.
"BREAKING: Channel 7 drops its court case & now concedes Today Show has won the official OZTAM breakfast show ratings for 2016," Lisa wrote on Twitter.
Ad. Article continues below.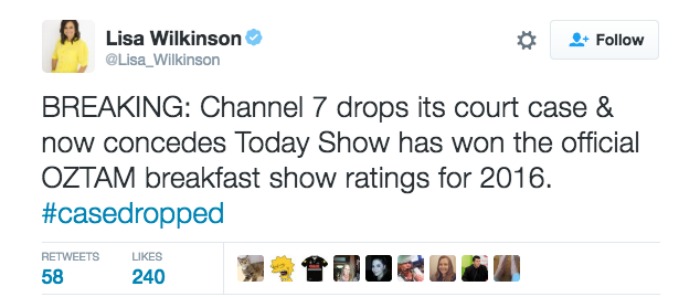 She was quick to receive some backlash from Sunrise fans and hit back with some cold hard facts.
"OK, with so many having their knickers in a twist, let's clarify: TODAY can't be beaten in 2016 b/fast weeks won across 5 cap cities," she wrote.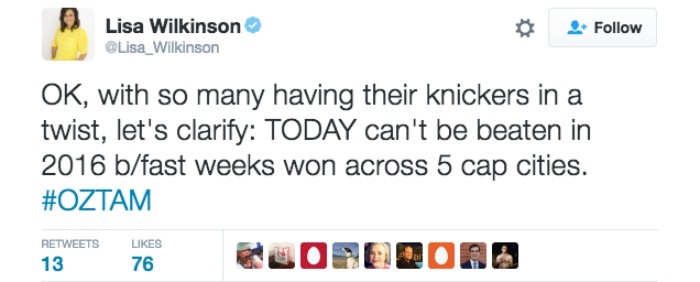 At the same time Lisa was writing her own self-congratulatory message, Sam was writing her own.
Ad. Article continues below.
"Great news; @channel9 concedes @sunriseon7 is Australia's number 1 breakfast show. And settles case. Thanks for saving us court costs ?" she said.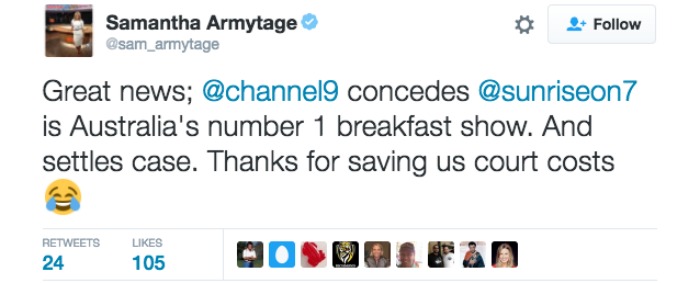 It wasn't long until the Today show fans were on her case though, with Sam replying "Ummmmmm… No they don't. #propaganda" to a fan who wrote "the ratings say otherwise".

The public spat comes after a leaked email from Nine shows executive producer calling Seven "bad losers" acting like a "narky kid".
Ad. Article continues below.
"They're behaving like the narky kid who gets beaten in a kick-about on the oval," Mark Calvert told staff in the email.
"They're Donald Trump, only accepting the result if he wins.
"They're bad losers. They've forgotten that breakfast television is fun."
At the rate they're going it looks like the battle is only going to get more heated from here!
Which breakfast show do you watch?