Liberal MP under fire for involvement in new donations scandal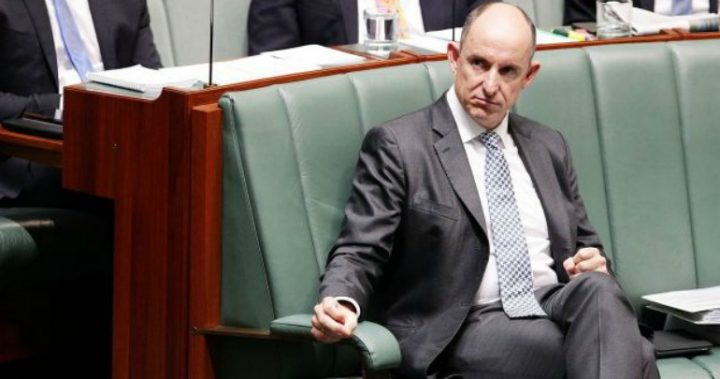 A special anti-corruption taskforce has been assigned to investigate claims of dodgy political donations that have embroiled Turnbull government MP Stuart Robert and a Liberal fundraising body he controls.
The investigation comes amid new questions about Mr Robert's connections to property developer Sunland and his support for the company's controversial $600 million plan for two high-rise towers on the Gold Coast.
Mr Robert has admitted his Fadden Forum – a fundraising arm of the Queensland Liberal National Party – was used to secretly bankroll two candidates with $60,000 to run in the March Gold Coast City Council election.
Kristyn Boulton and Felicity Stevenson, who were given $30,000 each, were both members of Mr Robert's staff but ran as independents and did not disclose their Liberal links until after the poll. Ms Boulton was successfully elected while Ms Stevenson failed and returned to Mr Robert's employ.
The Queensland Crime and Corruption Commission this month launched an investigation into the election and has assigned a "specialist team" with political expertise to spearhead it.
Ad. Article continues below.
It's understood the investigation will seek to examine the provenance of money donated to the Fadden Forum, including suggestions it came from property developers whose involvement was concealed.
One high-profile donor to the Fadden Forum has been Gold Coast developer lobbyist Simone Holzapfel, a former adviser to Tony Abbott, who gave more than $100,000 to the fundraising vehicle.
In a Senate estimates hearing in May, Labor senator Jenny McAllister raised the issue of Ms Holzapfel's donations with electoral commissioner Tom Rogers. She raised concerns about whether the donations genuinely originated with Ms Holzapfel and asked if the Australian Electoral Commission would consider if there had been a "deliberate attempt to conceal the nature of the donor".
Ms Holzapfel insists the money came from her own pocket, angrily rejecting suggestions she merely channelled money that really came from her developer clients, which include Sunland.
Mr Robert, on the other hand, refused to comment on the claims: "I don't speak about donations. Political parties talk about donations, individuals don't."
Ad. Article continues below.
But Mr Robert – who was sacked from Prime Minister Malcolm Turnbull's frontbench in February over a scandal involving a major Liberal donor – maintains he has done nothing wrong and says claims to the contrary are "rubbish".
That's despite top LNP officials publicly calling the Fadden Forum candidate donations "inappropriate". Mr Robert declined to say if he had been contacted or interviewed by the CCC.
This is not the first time Mr Robert's connections to Sunland have come under scrutiny.
He has been accused of overstepping his role as an MP when he intervened in a dispute between Sunland and Australian man Marcus Lee, who spent five years trapped in a legal nightmare in the Middle East.
Mr Lee was arrested on fraud charges in Dubai in 2009 after a land deal between his company Nakheel and Sunland went bad. He spent years in jail and under house arrest before being acquitted in 2013.
Ad. Article continues below.
Mr Robert became involved in the saga when he made two speeches in Parliament defending Sunland.
Speaking under parliamentary privilege, Mr Robert was critical of Mr Lee while lauding Sunland as a "solid Australian corporate citizen" and its directors as "fine, upstanding men" and "pillars of the community".
The speeches sent shockwaves through Mr Lee's camp, which felt Mr Robert had damaged his chances of freedom. Mr Lee is now suing Sunland and its directors for more than $10 million for loss of income, distress and legal costs.
Do you think politicians need to be more open about what their money is going towards or is the MP right?